Posted by Ben Golliver.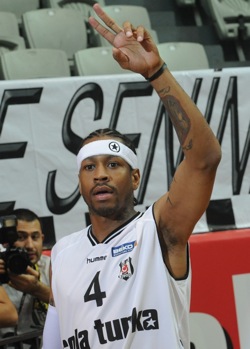 When we last heard from future Hall of Famer
Allen Iverson
, he was bailing out of his obligations to a Turkish professional basketball team, citing a mysterious leg injury.
The Answer is back.
Yahoo Sports reports
that Iverson, widely regarded as one of the best pound-for-pound and inch-for-inch scorers of all time, will make his triumphant return in Las Vegas in November.
Former NBA All-Star Allen Iverson is hosting the Las Vegas Superstar Challenge on Nov. 12-13, sources told Yahoo! Sports.

The tournament includes four teams with captains, including Iverson, who will recruit players for their respective teams. NBA All-Stars who could participate include Kevin Durant, Amar'e Stoudemire and Paul Pierce, sources said. Iverson is expected to announce the participants for all four teams in Las Vegas next week.
The games will reportedly be held on Nov. 12 and 13 and will coincide with a much-anticipated boxing match.
Iverson, now 36, has
made some noise
about trying to get back into basketball, but he has played just 28 NBA games since the start of the 2009-2010 season and has burned some bridges over the years. He was recently accused of
yelling profanities
at a police officer.
Few NBA players reach the pinnacle of fame and popularity that Iverson had in his heyday, so it makes all the sense in the world that he would work to continue to profit from that stature. His legion of diehards is large enough that he should be able to continue to capitalize on his skills and persona for the foreseeable future. His star is fading, his future promises only the unknown, but Iverson's talent, properly channeled, has given him the opportunity to be a great ambassador for basketball.
And, with the NBA lockout ongoing, what better time for basketball and Iverson to get reacquainted.