Posted by Ben Golliver.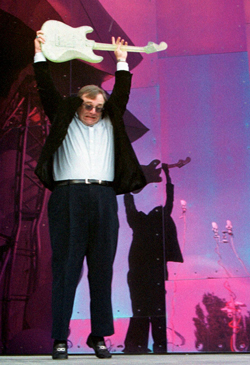 When Thursday's labor negotiations between the NBA and its players broke down, Portland
Trail Blazers
owner Paul Allen
emerged as an obvious villain
. National Basketball Players Association executive director Billy Hunter said that Allen was sent into the negotiating room to deliver an ultimatum from the NBA's Board of Governors and the union's chief lawyer, Jeffrey Kessler, said the meeting was "hijacked" by Allen's presence.
On Friday, NBA deputy commissioner Adam Silver defended Allen, disputing these accounts of events
in an interview with The Oregonian
.
"I do not understand why his presence has taken on a life of its own as if he was sent in to deliver a message to the players," Silver said.

"Paul is in the same position as every other owner. He wants a system where every team is in a position to compete for a championship and every team, if managed properly, has a chance to make a profit.

"In no way was his presence intended to send a message."
The plot thickens, though, because
a sportswriter for the paper noted
that the NBA and the Portland Trail Blazers would only make Silver available for an interview with a specific reporter who usually does not cover the Blazers. The writer also said that the NBA and/or the Blazers threatened to have Silver interview with a competitor if they did not agree to those terms.
Yes, you read that correctly. The NBA just allegedly disputed that one of their owners issued a "take it or leave it" ultimatum to the players by issuing a "take it our leave it" ultimatum to a newspaper. They allegedly decided to make it clear that Allen didn't issue a statement that pre-conditioned the negotiations by pre-conditioning their disputed account. They allegedly defended Allen from charges of a "my way or the highway" attitude by threatening the paper with the most basic "my way or the highway" tactic known to media.
Well, the NBA is nothing if not consistent!
As Ken Berger of CBSSports.com eloquently put it, this is
circus behavior
.