Posted by Ben Golliver.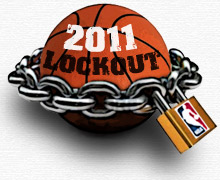 Pro-tip: Any time a negotiation ends with one party standing up on national television to call the other party a liar and the federal mediator apppointed to oversee things issues a "hands in the air" press release as he sneaks out the side door, that's a failed negotiation.
The NBA's labor negotiations reached rock bottom when National Basketball Players Association president
Derek Fisher
didn't mince words, accusing representatives of the NBA's owners of lying in their depiction of labor talks that broke down on Thursday.
The New York Times reported
Friday that, although everything looks terribly bleak, the two sides could re-engage communication as early as this weekend.
"It could be tougher than it has been in the past to get back together," Peter Holt, the chairman of the league's labor-relations committee, said Thursday night.

Yet on Friday, people on both sides of the divide, speaking off the record, predicted there would be a phone call or two over the weekend and probably another meeting next week. That has been the pattern all month: every dramatic breakdown followed by a brief silence and then a surprising resumption of talks.

In many respects, the parties are exactly where they were two weeks ago, when union officials angrily accused the league of "setting preconditions" — i.e. acceptance of a 50-50 split — for any further talks. Two days later, they were back at the bargaining table.
The big question here: Can we get an injury report on NBA commissioner David Stern? Stern, who called in sick to Thursday's negotiations that eventually went up in flames, hasn't emerged yet emerged to put the pieces back together. The possibility of further regular season game cancellations looms, so perhaps we'll be hearing from him soon?
Certainly, the vast majority of NBA observers have to be hoping that Stern's return comes with news of negotiation reconciliation, and not solely the bad news of a further delay to the start of the 2011-2012 season.