Posted by Ben Golliver.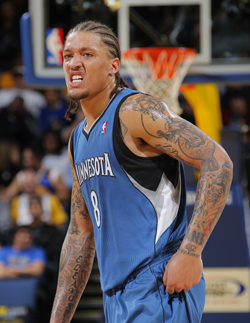 There have been a lot of sad stories during the NBA lockout, but this rivals them all.
Minnesota
Timberwolves
forward
Michael Beasley
, he of the
marijuana arrest
and
fan face mush
, decided to organize a charity basketball game in Minnesota. Great idea! He invited tons of big name players, including NBA scoring champ
Kevin Durant
and All-Star
Kevin Love
. He even called it the "All-Star Classic" and organizers reportedly charged up to $300 for a ticket.
Two problems. None of the good players showed up. And not many fans showed up.
The Star-Tribune reported
that everyone who is actually good that was scheduled in the game just no-showed.
Organizers originally priced tickets at between $60 and $300, then changed them to $40 general admission, $100 for VIP reserve and $300 for court seats when it became clear Durant, Love, [John] Wall and No. 2 overall pick Derrick Williams wouldn't play.
The paper also reported that organizers estimated the attendance at 1,200. The Associated Press, though,
pegged the number
at "about 600 to 700."
So who was left to play in this "All-Star Classic?" Exactly zero All-Stars of course. The seven NBA participants, according to the AP, were Beasley,
Wesley Johnson
,
Anthony Randolph
,
Wayne Ellington
,
Lazar Hayward
,
Anthony Tolliver
and
Dorell Wright
. Wright can actually play, Beasley and Johnson both started a majority of games for the 17-win Timberwolves last season, but the rest are fringe NBA players. Potential D-League All-Stars, sure, but that's about it. And, together, not even enough players for a full 5-on-5 NBA experience.
Paying to see Kevin Durant and getting to see Wayne Ellington instead would have gone down as the worst kind of bait-and-switch imaginable, but thankfully the proceeds went to worthy local charities.
Beasley's All-Star Classic winds up serving as a tidy symbol of his own NBA trajectory. Launched with the promise of big things as the No. 2 overall pick in the draft. Eventually revealed to be something totally different and, ultimately, disappointing.