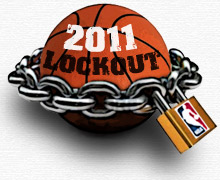 Posted by Royce Young
There has been some rumblings, some murmurings, if you will,
about a secret contingency schedule for the NBA
. All unconfirmed and very hush-hush stuff.
But via SI.com
, it sounds like the NBPA is convinced the NBA's got one.
While two weeks of the regular season have already been canceled and at least two more are expected to go soon, two sources close to the negotiations said the union believes that Stern assured his ESPN and TNT television partners that, by back-ending the missed games, he can still deliver an 82-game season even if starts in December.

Accurate or not, the players' perception of when their early paychecks will truly be gone for good will determine when they reach for the panic button. Conversely, it seems clear the owners want to push this timeline to the brink to get their dream deal, knowing full well what might happen when players miss the first round of paychecks in mid-November and a second round two weeks later.
While the league might indeed have that backup plan there's a key ingredient to it working: The lockout has to be over soon. It's expected that the league will announce more games will be missed soon, but if games are to get started by December, a deal needs to happen soon.
I don't know how an 82-game schedule would work though. More back-to-backs or would it just extend into June? With the Olympics next summer, that could be a problem if The Finals had to push all the way until July.
I'm sure the league wants to get all 82 games in. It's a lot better than having the scar of a lockout shortened season stamped on 2011-12. But if that's going to happen, one important detail has to be figured out first: a new collective bargaining agreement.