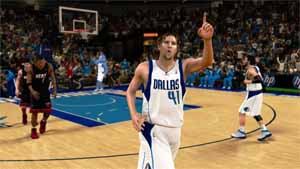 By Matt Moore
There's a weird quirk with NBA 2K12.
Dirk Nowitzki
is exceptionally difficult to play with. Even
Mavericks
fans have a hard time getting the hang of him. Part of it is due to his insanely long shooting motion (it's not slow, it's just long), part of it is the way the game treats size and range. But the result is that getting the real hang of the Finals MVP is a trick. But the big guy himself has a pretty easy solution. Just shoot, baby. From Nowitzki's Twitter:
RT @TheRealTwiggg: @swish41 why are you so hard to play with in the video game 2k any tips?(Just press circle button to shoot from anywhere)
via
Twitter / @swish41: RT @TheRealTwiggg: @swish4 ...
.
Helpful, Dirk. Now if we can just figure out how to dribble with your seven-foot self. One tip? Drop the big guy into the post at the elbow, then go to the pump fake and fadeaway. You know. Like he is in real life. Even then, it takes some getting used to.
In other 2K12 news, 2K Sports announced last week a new game mode being introduced through online addition, based on the popularity of the legends mode they integrated, which allowed players to play classic games of great teams to unlock them. (Only took me twelve tries to unlock the Sixers. Sidney Moncrief is a monster in that game.) From a 2K Sports release:
Legends Showcase allows gamers to select from more than 150 of the NBA's all-time greatest players, including Michael Jordan, Larry Bird, Magic Johnson and Dr. J, and compete in authentic pick-up games from 1-on-1 up to 5-on-5. Legends Showcase also features mini-games, such as 21 and H-O-R-S-E, along with other new features like the 2-on-2 Teammate Challenge and 3-on-3 Era Challenge. Gamers can also unlock current NBA players to create unique match-ups between legends and current stars. Finally, for the ultimate challenge, gamers can bring their My Player into the mix and battle the legends of the NBA to see how they stack up against the best ever.
Gotta say, pretty exciting to think about playing H-O-R-S-E with Larry Bird vs.
Kevin Durant
. Now we just need to be able to set up your own dunk contest with Dr. J, Jordan, and
Vince Carter
and we'll be set.
(Image via
2KSports on Facebook.
)