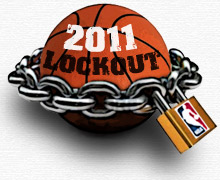 Posted by Royce Young
The players seem to be going on the offensive right now.
Raja Bell
said David Stern rules with an iron fist,
Chris Paul
made a point to say players aren't greedy and now,
Tyson Chandler
is comparing the league and its owners to dictators. Not quite as bad as "plantation overseer" but it's a strong way of putting it for sure.
As he told ESPN Radio
:
"It's unfair to the players, it's unfair to the fans because it's only going to lead to a longer lockout. A negotiation is a negotiation, and that's the way it should be, but this is more dictators than anything, and I don't feel this is going as a negotiation."
That seems to be the popular opinion around the players right now -- the owners aren't negotiating in good faith to get a deal done. Billy Hunter has said multiple times that David Stern told him to prepare for this two years ago. And now, here it is with the owners holding a lock and key over the league in order to get a better deal.
I assume Chandler is meaning to say that the owners are basically telling the players what kind of deal to take instead of actually negotiating with a back and forth. Which is definitely as it seems from the outside. The players have made a number of concessions but it hasn't been good enough for the owners. Coming down from 57 to as low as 52.5, but the owners wouldn't budge from their numbers, only coming "up" to a 50-50 split. So you can understand the players' frustration.
Chandler was asked about the players lacking leveraged -- i.e. decertification -- in these negotiations.
"Well we are the product, and I've said from the get go, if the owners want to take that spin than we should take the lockout. The owners, you can't find any other players like we have in the NBA. You're not going to find them overseas, you're not going to find them in college, you're not going to find them anywhere else. We have the Kobes, the LeBrons, the Durants, Dwight Howard, Kevin Garnett, Paul Pierce, Derek Rose, Blake Griffin — those guys are selling out your arenas night in and night out. There's a reason the Clippers draw the attendance that they do — it's because of Blake Griffin. He's putting the money in the owners pocket.

And those guys that are making money, they don't want to lockout, they don't want to see this thing drag on. But there are owners in the other cities that aren't making money, I understand that, and so that's the reason that we've came back so that those owners can at least break even. Now if you put a better product on the floor and you go out in free agency and make some hits and make a splash, then your team will get exciting again and you'll get some attention and people will start going to your games. But ultimately the players are the product."
It's true. The players are the product. But the owners are the ones writing the checks, so it's not like they have a say in their business.
Hence our stalemate.