Posted by Ben Golliver.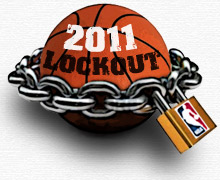 National Basketball Players Association president
Derek Fisher
said the NBA's owners were lying on Friday, and we spent all weekend waiting around anxiously for the other shoe to drop.
NBA commissioner David Stern, who called in sick that day, needs to do
something
, right? He can't just watch his league's labor negotiations blow up in his absence and not make some attempt at regaining order.
The question: What will he do?
Some think he could still have an
82-game schedule up his sleeve
, but it's
still not clear
when the two sides will meet next in their negotiations.
Ken Berger of CBSSports.com reports
that Stern could opt for an open-ended approach rather than a definitive one.
"Pretty widely expected that NBA's next announcement will be that start of season postponed "indefinitely" or "until further notice."
When Stern announced that the NBA would cancel the first two weeks of its regular season, the announcement came three weeks prior to Nov. 1, the season's start date. We now stand pretty much exactly three weeks prior to the season's new start date -- Nov. 15 -- so an announcement of some kind should be coming shortly.
Why would Stern opt for an indefinite postponement? Well, it would save him the hassle of making a new cancellation announcement every two weeks. Surely, the outcry from fans and media members will accompany every new announcement. If he makes just one indefinite announcement, everyone hangs in limbo, uncertain when to rage. It would also give him the flexibility of getting the season started at whatever time is convenient if negotiations are successful. No need to wait an extra day or week to get things going if an agreement is actually reached.
A potential downside to an indefinite postponement would be the elimination of clear "deadlines" that are sometimes said to help the negotiation process. If the two sides don't feel clear pressure to work things through by a certain date to save a set amount of game checks, will that impact the motivation to set up meetings and/or stick to them for hours on end?
For now, we just wait and see for the answers to those questions.