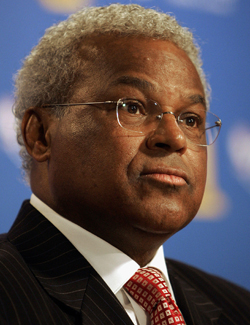 Posted by Royce Young
Billy Hunter was on the B.S. Report to discuss the lockout
, spending about an hour discussing any and everything about the current state of labor talks.
He said he sees these negotiations as similar to 1998's lockout that resulted in 32 lost games, but felt that last week's long negotiations were going to yield something positive.
"I thought we were trying to reach compromise when we were there last week," Hunter said. "I suspect it's more about an internal battle that may be brewing or that's occuring between the big and small markets over the proposals we've submitted.
"We don't want to be totally exploited."
Hunter recounted a meeting with David Stern in Cleveland a few years ago during the postseason where Stern said his owners were ready and willing to miss an entire season to force player salary rollbacks.
Hunter said that the owners have acknowledged that 53 percent covers their losses and gives them the "possibility" of making a profit, citing specifically Peter Holt. And also said that players, having come down from 57 percent to as low as 52.5 in terms of Basketball Related Income split, are starting to dig into these negotiations for more reasons than just money, implying that it has moved past just dollars and cents, but is about the principle of getting a fair deal and they're willing to take the hit in order to get it. Now it's becoming a moral issue to them.
"They're principled individuals," Hunter said. "After a while, it becomes a principle ... the players are a little bit more strident."
Hunter said that during last week's long negotiations there were multiple ideas presented, with one interesting concept coming from
Mavericks
owner Mark Cuban. Hunter said Cuban came up with a structure called the "Game-changer" that included no salary cap. Hunter said he took that back to the players and they had a version of it they liked and then Hunter said two or three owners were very excited about it. And then a couple small market owners put the kibosh on it.
"We're open to the idea Mark Cuban put on the table," he said.
Hunter also commented on NHL player Bill Guerin's statements that holding out for a deal wasn't worth it, saying that he and his staff have been "very transparent" with the players about how much they'll lose per week, per month or even for a season. But also said the players are actively pursuing every opportunity to make a deal.
"We've indicated that we're ready to sit down and negotiate with them in a minute's notice," Hunter said. "I'm prepared to do anything within reason -- within reason -- to get a deal."
Hunter relayed that he had told the owners that concessions on systems issues might make the NBA's 50-50 offer "more palatable" to players. Meaning, I think, that owners could get their desired 50-50 BRI split if they'll work on some of their systematic demands. But Hunter said the owners will only negotiate system on the precondition of a 50-50 split. Which is when Dan Gilbert evidently told Hunter to "trust his gut" on the system.
Hunter was asked about Bryant Gumbel's comments that compared Stern to a "plantation overseer," simply answering, "I don't think David is racist at all." But he did try and explain why Stern's being so hard-headed on these negotiations.
"I think the reason David's being so stubborn is he's got a new crop of owners," Hunter said. "He's got all these guys who are extremely successful, making billions of dollars and they bought these franchises. And they just have a different perspective."
It's honestly easy to hear Hunter's side of the story and lean towards the players. He presents a side that's very open to every compromise, open to every idea but is being met with a hard wall of stubborn owners looking for a blowout victory in these negotiations. Is it encouraging? Somewhat. Hunter was very straightforward with how much the players are willing to concede to get a deal done. I think they're position is out in the open. They want a deal where they can feel that the owners didn't get everything they wanted and raked them over the coals.
If it eventually comes to that, the players will be ready to deal. How long that's going to take is the question.