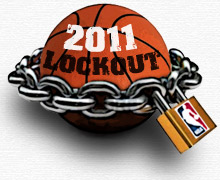 By Matt Moore
The NBA is very busy doing everything except actually meeting with the union to resolve the NBA lockout. With the next two weeks of the NBA schedule expected to be canceled later on Tuesday,
Ken Berger of CBSSports.com reports
that ownership is expected to be on a conference call today to discuss revenue sharing. Reports over the weekend suggested that
Celtics
owner Wyc Grousbeck's proposal last week was confusing, so clearly the issue is still being worked out by the league.
Meawhile,
ESPN is reporting
that while the NBA and NBPA had "lengthy talks" via the phone on Monday, no further talks are scheduled. So just to be clear, the next two weeks of the regular season are being canceled today, the two sides spoke all day by phone, and yet they won't agree to get in a room and meet.
It's almost hard to believe this process has failed so badly.
The union has been extremely forthcoming about its stance regarding negotiations, saying after the breakdown in talks last Thursday that they were ready to continue talking that day, and each day since. The league on the other hand seems very much committed to dragging its heels, which is bizarre considering the state of things, and at the same time completely predictable based on what appears to be a very real not just willingness, but desire to miss most of if not all of the season by the owners.
If this thing is going to get saved before it get substantially worse, something has to move soon. They're talking, which is great. They're not meeting, which is not.
Tuesday is day 117 of the NBA Lockout.