Posted by Ben Golliver.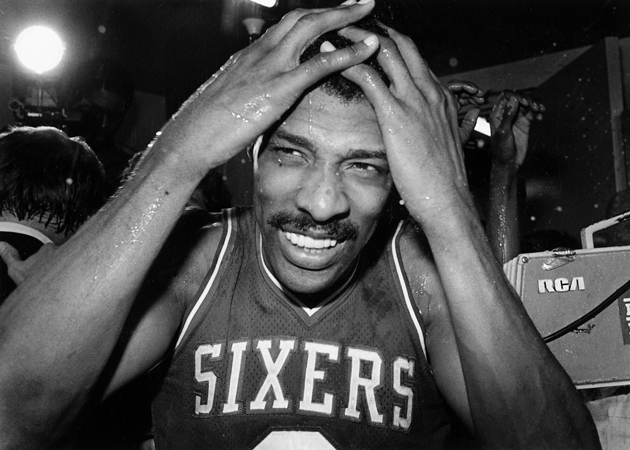 You fight your entire career, suiting up in two professional leagues for more than a decade, battling Larry Bird's Boston
Celtics
and
Magic
Johnson's Los Angeles
Lakers
to finally grab your first NBA title. You cuddle with the Larry O'Brien trophy and cherish your championship ring for more than 25 years. And, then, all of a sudden, you put it up for auction? Along with just about every other personal item and effect that might have some value?
That's the situation that Philadelphia
76ers
legend Julius "Dr. J" Erving finds himself in.
SCP Auctions
informed the media on Tuesday that a large quantity of Erving memorabilia -- including his 1983 76ers championship ring -- will be auctioned off in what the site calls "certainly the most important and comprehensive basketball player collection ever brought to market."
"I am very excited to work with SCP auctions to offer my personal collection of memorabilia to collectors and fans," said Erving. "It is my hope that the buyers of these items will derive much pleasure from their ownership. I also hope these treasures initiate much discussion inside and outside of basketball circles that help to preserve my legacy. It pleases me to support my lifelong charity, the Salvation Army, with a portion of the proceeds. My family and I thank all of the fans for their continued support throughout the years."

Some of the marquis items from the collection include Dr. J's 1974 and 1976 New York Nets ABA World Championship ring; 1983 Philadelphia 76ers World Championship ring; 1996 NBA's 50 Greatest Players ring; MVP trophies from 1975-76 (ABA) and 1980-81 (NBA); 1977 and 1983 NBA All-Star game MVP trophies; 1979, 1981 and 1985 Eastern Conference All-Star game-worn uniforms, 1982-83 Philadelphia 76ers game-worn road uniform; and his final game-worn jersey from Game 5 of the 1987 Eastern Conference playoffs.
The collection can be viewed online
here
.
The news comes -- coincidentally (or not) -- on the same day that
the Atlanta Journal-Constitution reports
that Georgia Primary Bank is suing Erving for more than $200,000.
Basketball legend Julius Erving owes more than $200,000 on a loan with Georgia Primary Bank, according to a lawsuit filed in Fulton Superior Court. The bank filed a lawsuit Oct. 18 against Erving, 61, and his corporation, The Erving Group Inc. of Atlanta.

Erving's company was given a $1 million line of credit in April 2009, which was due the following April, according to the lawsuit obtained by the AJC. Erving used a Gwinnett County home as collateral to secure the loan, the lawsuit states. In August 2010, the line of credit was reduced to $750,000 and the maturity date extended to July 24, the bank stated in the suit. But, an outstanding balance of $205,277.84 has not been paid, despite a demand letter for payment sent Sept. 29.

Erving, better known by his nickname Dr. J, moved to the Atlanta area in 2008, about two years after purchasing the Heritage Golf Club, near the Gwinnett-DeKalb county line. The AJC reported in April 2010 that the golf club was in foreclosure.
I guess this is about as depressing as the NBA gets. I'd like to say that this is the first time or that it will be the last time, but we all known that's not the case.
Memories and mementos only become available like this once in a lifetime, at most. So all you Julius Erving impersonators and look-alikes out there better go crazy while the gettin' is good.

Hat tip: Ball Don't Lie