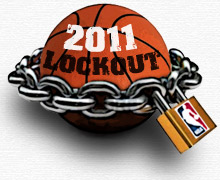 Posted by Royce Young
After months of hearing about "gulfs" and "miles" between the players and owners, could there finally be a little movement towards not just the middle, but an actual deal?
Maybe. Possibly. Potentially.
Hopefully
.
Our man Ken Berger of CBSSports.com wrote in his column earlier
that the two sides are "inching closer to a deal." Inching, crawling, somersaulting -- it doesn't matter. Get there however you can.
The two sides have quietly been discussing things over the past couple days after talks broke in a rather negative manner last week with the federal mediator. And to cap it all off, scheduled a smaller meeting Wednesday that appears to be yielding positive results,
at least according to Yahoo! Sports
.
Citing sources -- one on the owner side and one on the union -- with direct knowledge of latest proposals are "encouraged with movement on both sides."
Does "encouraged" mean a deal could be coming sooner than later? Possibly. Maybe. But all this talk is certainly much, much better than the doom and gloom that was coming out last week about lies and misinformation. The two sides met today without a 50-50 precondition, which was very important to the players. And another good sign of a potential willingness to deal.
The league was set to cancel another two weeks and hasn't done it yet. Those two weeks almost definitely well get axed in the end, but there's got to be a reason they're holding off. And it just might be because a deal is within reach.