Posted by Ben Golliver.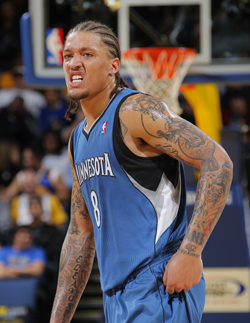 Here's a lawsuit that just might substantiate all of your worst fears about the ugly behind-the-scenes behavior that stains elite amateur basketball.
The Washington Post reports
that Minnesota
Timberwolves
forward
Michael Beasley
is suing his former agent and his former AAU coach for conspiring to create a situation in which they could represent him once he became a professional player. The lawsuit alleges that the agent, Joel Bell, and the coach, Curtis Malone, first sank their hooks into Beasley when he was 14 years old.
The lawsuit comes less than a year after Bell sued Beasley for wrongful termination and breach-of-contract.
Beasley's allegations in this countersuit are lengthy and complicated.
To boil it down: The
Post
reports that Beasley and his mother allege that Bell helped cover the costs of Beasley's participation in a high-profile AAU team, including transportation, lodging, other family expenses and $2,500 in cash. The lawsuit also reportedly alleges that in return for that help the agent and coach took steps to ensure that Beasley would sign with Bell once he turned pro after one season at Kansas State, including paying for his mother's rent and car payment after she moved to Kansas to be near Beasley.
The paper reports that Bell and Malone either declined comment or did not return messages.
Providing direct or indirect compensation to high school players with the expectation of representing them in the future is generally believed to be a common practice among agents and wannabe agents but rarely are details made public because it opens up a Pandora's box of complications.
There is the possibility for NCAA sanctions for programs who signed the player, signed other players from the same AAU program or signed other players who are eventually represented by the same agent. There's the bad press that will hit the player and his family for taking illegal gifts that they "know were wrong." There's the red flag in NBA circles that pops up on that player when it comes to assessing his decision-making and character. There's the potential for major damages or, maybe in a worst case scenario, jail time for agents who act improperly. There's the chance that future basketball players won't want to have anything to do with a coach whose program has been tainted.
That Beasley is pursuing legal action, then, is fairly remarkable given all of these external forces working against him and his mother exposing their version of the truth. The big question: Will the ordeal be worth it?
For further analysis, Matt Norlander of CBSSports.com
has you covered
.