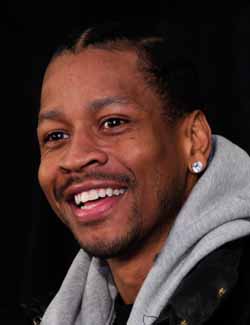 By Matt Moore
Pride goeth
after
the fall, apparently, and after the Answer, as it turns out. Two years ago,
Allen Iverson
signed on with the Memphis
Grizzlies
for less than a month before his ego and attitude got him booted. The Grizzlies went on to have one of their better seasons in franchise history, setting up this year's playoff run. Iverson, on the other hand, went to Turkey the following year, but again, wound up pulling out after personal problems derailed him. He suffered through a severe illness with his daughter, and also started the process of divorcing his wife.
So, no, it has not been a great couple of years for A.I..
But Iverson's back in the states, putting together an All-Star exhibition in Las Vegas, and as part of its promotion, he's also talking about how he wants back in the league. He spoke with Yahoo! Sports and wanted to let the world know that he's past the point of thinking he deserves anything. He just wants a spot, any spot, with any team.
"I'll play for anybody," Iverson told Yahoo! Sports.

Iverson says he has no serious offers from any teams overseas right now. He added that playing overseas also gave him a stronger appreciation for the NBA since it took him away from his family and "the highest level [of basketball] in the world." He also says he'll be willing to come off the bench and a reserve role even "makes it easier for me."

"Obviously, they might have some issues thinking I don't want to help a team in a certain capacity," Iverson said. "But that's over with. All that was going on through an emotional time. It cost me to not play. I'm just willing to help any squad in any capacity.

"Hopefully, one squad will believe in me and we will go from there. That would be a lot better than having to go overseas."
via
Iverson wants last shot at NBA - NBA - Yahoo! Sports
.
Iverson's 36. He's not a distributor. It's hard to see where he would fit in with a team concept. Due to his size and age, even a team like the
Celtics
would be reticent to invest in him. It's going to be difficult finding a team willing to take a chance on him. It would be great if he were to get that shot, though, if only to put anything close to a better ending on such a storied career. The interview also has Iverson talking about "not being there, mentally" the last few years, but the problem is convincing teams those times are over. That kind of element is a black mark on a scouting report.
We'll see if the Answer can get the one he's looking for.