Posted by Ben Golliver.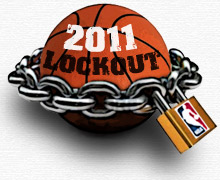 NBA commissioner David Stern cancelled two more weeks of the 2011-2012 regular season after labor negotiations with the National Basketball Players Association broke down on Friday afternoon in New York City.
"Right now, our games are cancelled through Nov. 30," Stern said. "To the end of the month of November."
Stern also ruled out the possibility of salvaging an 82-game schedule by squeezing in extra games after a postponed start.
"It's not practical, possible or prudent to have a full season now. We held out that joint hope together, but in light of the breakdown of talks there will not be a full NBA season under any circumstances."
With that, Stern then issued a quick apology to those directly affected by the cancellations.
"I say that with apologies to the municipalities in which we play our games, to the workers who earn their living in our buildings and from businesses around the buildings."
Shortly after Stern's statement, the NBA also issued a press release formally announcing the decision.
"The NBA announced today that it has canceled all games through November 30," the release read, "because a new collective bargaining agreement has not been reached with the National Basketball Players Association."
"We share the frustrations of our fans, partners, and those who rely on our game for their livelihoods," NBA Deputy Commissioner Adam Silver said. "We remain committed to reaching an agreement that's fair for both the teams and the players and allows for the long-term growth of our game."
On Oct. 10,
Stern cancelled the first two weeks
of the NBA regular season. On Oct. 4, Stern
cancelled the preseason
. In total, 221 NBA games have now been cancelled.
Here's video of NBA commissioner David Stern cancelling all NBA games through the end of November.