Posted by Ben Golliver.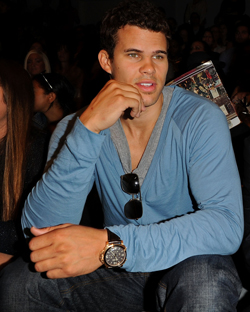 Kris Humphries
has allegedly been taken for a major ride by a scam artist, and we're not referring to his wife or his in-laws.
Humphries, a free agent forward who most recently played for the New Jersey
Nets
, and is perhaps best known as reality television star Kim Kardashian's better half, has reportedly been hustled out of hundreds of thousands of dollars by an investment scam artist.
TMZ.com reports
that Andrey Hicks ran a million-dollar investment scam that ensnared Humphries.
Andrey C. Hicks was a guest at Kim and Kris Humphries televised wedding bonanza in August ... and sat right behind the happy couple during the rehearsal dinner.

Officials believe Andrey lied to several investors -- including Kris -- telling them, among other things, that he was a Harvard graduate ... when in fact, he was kicked out of the University after 3 semesters for crappy grades. Officials say Andrey only took 1 math class at Harvard ... and got a D-. Officials claim 27-year-old Hicks stole $1.7 million from various investors ... and sources close to Kris tell us the NBA star accounted for hundreds of thousands of dollars himself.

Hicks was arrested in Canada on Friday and charged with wire fraud. Officials believe he was trying to flee to Switzerland. If convicted, Hicks could face up to 20 years in prison and a $250,000 fine.
Basketball-Reference.com reports
that Humphries' career NBA earnings top $16 million. He's also earned approximately $4.3 gazillion dollars by agreeing to turn his life into a soap opera by marrying Kardashian. A 26-year-old free agent, Humphries figures to be in line for a fairly sizeable pay day thanks to the fact that he averaged a double-double (albeit on a terrible team) last season.
In other words, save your tears for someone who needs them. Humphries should emerge from this just fine.
Hat tip: NetsDaily.com
Related: Kim Kardashian preferred Danilo Gallinari instead of Kris Humphries?