Posted by Ben Golliver.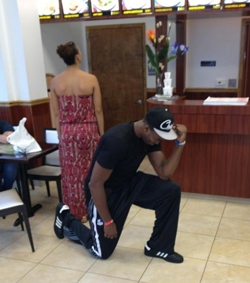 The latest pose-and-take-a-picture craze to hit the internet is known as "
Tebowing
."
Named after former University of Florida and current Denver Broncos quarterback Tim Tebow, it follows in the well-travelled footsteps of planking, a practice by which the planker lays down flat on his or her stomach somewhere funny and takes a picture.
Contrary to some reports, Tebowing does not refer to holding onto the football too long and unnecessarily taking a sack. Instead, the Tebower simply poses for a picture by getting down on one knee while clutching a fist to the head, so as to bow down in prayer at a random moment. Tebow, a deeply religious Christian, is known to strike the pose pretty much whenever he gets the chance during football games.
Orlando
Magic
center
Dwight Howard
, who engaged in a
fairly epic planking wa
r with teammate
Gilbert Arenas
this summer, has wasted no time in getting in on the newest craze, snapping a picture of himself kneeling and praying in a restaurant and
uploading it to Twitter
. Howard, like Tebow, is a devout Christian.
Ironically,
Howard has Magic fans down on their knees
praying that he won't force his way out of Orlando via trade during the 2011-2012 season or bolt to a bigger market during the summer 2012 free agency period.
RELATED: Dwight Howard planks with 100 fans in China