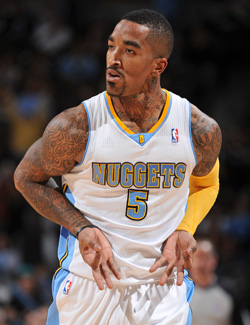 Posted by Royce Young
When
J.R. Smith
and
Wilson Chandler
signed contracts to play in China during the lockout, it appears they were basically out of the 2011-12 NBA season. The Chinese Basketball Association built in a "no opt-out" clause that wouldn't allow temporary renting of NBA players during the lockout.
Doesn't appear that rule holds much weight. Already
Earl Clark
has
gone to the Far East and returned
despite the no opt-out rule. And you might be able to add two more that: J.R. Smith and Wilson Chandler.
ESPN.com reports
there's a "quiet expectation in Chinese basketball circles is that Chandler and Smith will be released by teams there when NBA lockout ends."
But how? I thought there was a rule stopping this from happening?
There is, but that doesn't mean teams can't waive their players. And if Chandler and Smith's teams were to waive them, they'd be free to return if they want. And not just that, but players can sort of force their team's hand to waive them by asking for it or just refusing to play.
Chinese hoops blog NIUBBall put it this way
:
Technically, yes that's true. But you forgot to consider an important point — this is the CBA (Chinese Basketball Association)! Despite what the language of a contract may say, there are no such things as "guaranteed contracts" and "no out-clauses." When it comes down to it, no team is willing to pay and play an import that doesn't want to be here. With China's paper thin pool of domestic talent, imports are relied heavily upon to be the focus of the offense and put up huge numbers. If a player doesn't want to be here, there's no reason for a team to keep him on board only to see his performance decline on the stat sheet and the team's losses stack up in the standings.
As for former Nugget teammate
Kenyon Martin
, the report says Martin's team Xinjiang wants him to stay with them the entire season. Which if the team wants it and is willing to continue to pay him, then that rule carries weight.
When free agency finally starts in the NBA, Chandler would be a restricted free agent and Smith unrestricted.