Posted by Royce Young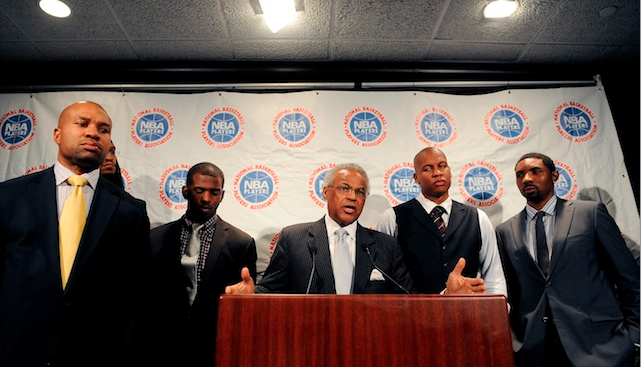 Tensions are high right now with the NBA's labor negotiations. Both sides are pushing hard for a deal, fans are getting more and more restless and there are players out there that are looking at a 50-50 revenue split and saying, "Let's just play."
The union has always tried to stay on message: Stand united. But the deeper it does, the more opportunity there is for something divisive to split up opinions. And with
Derek Fisher
and Billy Hunter leading the charge for the players, it would only be natural that the two butt heads a bit. Which they are,
says FoxSports.com
:
This is fact: The belief that NBA Players Association president Derek Fisher has been co-opted by commissioner David Stern — and promised the commish he could deliver the union at 50-50 — caused NBPA executive director Billy Hunter and at least one member of the union's executive committee to confront Fisher on Friday morning and make him reassess his 50-50 push, a source familiar with the negotiations told FOXSports.com Friday afternoon.
That, however, isn't true so says Hunter. Hunter and Fisher are still totally cool,
via Sports Business Daily
:
NBPA Exec Dir Billy Hunter disputed a report that indicated there was a rift between himself and union President Derek Fisher. Hunter, in a telephone interview with SportsBusiness Journal late Sunday evening, said he did not confront Fisher about him pushing for players to take a 50-50 split of basketball revenues on Friday morning, hours before talks to end the NBA lockout broke down.
Whew, this isn't getting less and less fun by the day.
There's so much random, sourced information flying around right now that it's incredibly hard to sift through and figure out what's real and what's not. It's hard to judge if it could be a PR tactic planted by the other side, if it's real or if it's just something misunderstood.
And as frustrating as it is for fans to have to deal with all this stuff, imagine what it's like for Hunter, Fisher, Stern and Silver. They have a message to deliver and it gets intercepted and corrupted half the time by an anonymous source. Has to be frustrating.
You know what would fix all of that though? A labor deal. Just saying.