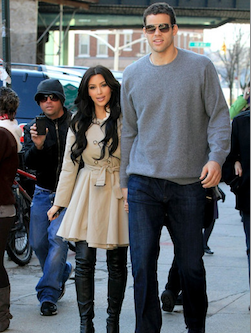 Posted by Royce Young
And now for today's "You know there's a lockout when..." post of the day:
Kim Kardashian and
Nets
forward
Kris Humphries
have filed for divorce,
according to TMZ
. Ah, who am I kidding -- lockout or not, that's big news.
We're told even though the marriage was short, she will not seek an annulment. It's a garden variety divorce, in which Kim cites "irreconcilable differences." We're told the date of separation is listed as today, Oct. 31, 2011.

Kim has hired disso-queen Laura Wasser, who has repped the likes of Britney Spears, Maria Shriver, Angelina Jolie, Ryan Reynolds, and Robyn Gibson, Mel's almost ex-wife.
The couple was married for 72 days and did have a prenuptual agreement.
Humphries reportedly spent $2 million on her engagement ring
. I'd say chance are good with it just being 72 days that it falls under the return policy. Lucky for Kris.
TMZ reports that Humphries is "bummed"
:
Kris Humphries desperately tried to save his marriage to Kim Kardashian, because he's telling friends ... he doesn't believe in divorce.

Kris, who's a religious guy, is telling friends he and Kim discussed the possibility of divorce, but he believed they could work their problems out.
The two wed over the summer in a ceremony that reportedly cost $10 million. Meaning as TMZ calculated, that's $138,888 for every day they were married. However, E! paid out a reported $17 million for the television special for the wedding.
(If you were wondering, Humphries made $3.2 million a double-double starting power forward for the Nets last season. And he's made about $16.9 million total in his career.)
Humphries does have free agency to look forward once the lockout ends though. And without Kardashian pushing for a primetime location, a bunch of teams probably like their chances a bit better now.
Unfortunate for Kris and Kim as it's a shame any time a marriage ends. But I'm sure those sitting courtside in opposing arenas might have much sympathy.
Related: Kim Kardashian preferred Danilo Gallinari instead of Kris Humphries?