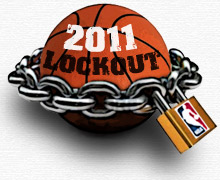 Posted by Royce Young
The players have dug in. Fifty-three percent of the Basketball Related Income or bust. Repeatedly, negotiations have collapsed on the discussion of BRI with last week's momentum falling apart right at the one-yard line because the players were still set on only going as low at 52.5.
The union's obviously convinced that the owners will finally give in and nudge up the extra couple percent. They feel coming down from 57 to 52.5 covers the owners' losses and gives them the opportunity to be profitable. At least that's what their fancy pants
MacArthur "genius" economist says
.
Still, the owners aren't budging.
At least according to NBA.com
.
The players aren't going to get 52, or 51, or 50.5, or 50.000001, and if they hold out for those numbers, they're not going to have a season. You'd have to be crazy not to see that now, so it's this for the players: take the deal this week or next, or lose the season. If they are willing to die on principle, they wouldn't be the first. But they will die, in the metaphorical sense.
At some point the players have to give in because the money lost fighting over a couple percent of BRI won't ever be recouped. They're set to lose those percentage points in a matter of months, and that's for the entire life of the next CBA.
So unless it just becomes a principled matter where players stick to their guns regardless of what the economics say, they'll have to budge.
Or maybe it's all part of the game. Round and round we go.