Posted by Ben Golliver.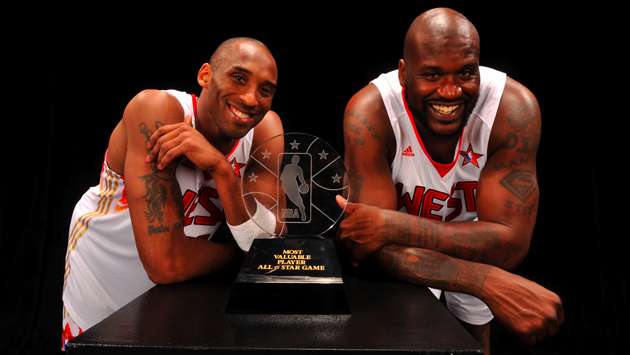 The Big Threatener.
In a new autobiography, NBA legend Shaquille O'Neal admits that he told former Los Angeles
Lakers
teammate
Kobe Bryant
that he would kill him.
O'Neal and Bryant teamed up for three titles with the Lakers but engaged in a public war of words that eventually led the Lakers to trade O'Neal to the Miami
Heat
. In his new book,
Shaq Uncut: My Story
, O'Neal says he took issue with Bryant giving public statements about how he was out of shape and faking an injury after Lakers brass requested the two stop squawking. O'Neal was so upset about the comments, he writes, that he threatened to murder Bryant during an argument about Bryant's sexual assault case in Colorado.
Here's an excerpt posted on Deadspin.com
.
Kobe stands up and goes face-to-face with me and says, "You always said you're my big brother, you'd do anything for me, and then this Colorado thing happens and you never even called me." I did call him. ... So here we are now, and we find out he really was hurt that we didn't stand behind him. That was something new. I didn't think he gave a rat's ass about us either way. "Well, I thought you'd publicly support me, at least," Kobe said. "You're supposed to be my friend."

Brian Shaw chimed in with "Kobe, why would you think that? Shaq had all these parties and you never showed up for any of them. We invited you to dinner on the road and you didn't come. Shaq invited you to his wedding and you weren't there. Then you got married and didn't invite any of us. And now you are in the middle of this problem, this sensitive situation, and now you want all of us to step up for you. We don't even know you." ... Everyone was starting to calm down when I told Kobe, "If you ever say anything like what you said to Jim Gray ever again, I will kill you."

Kobe shrugged and said, "Whatever."
Wow. Well, it clearly got personal. There wasn't ever much doubt about that.
How seriously should we take O'Neal's threat here? O'Neal has tried to establish a law enforcement career but has also been involved in a number of suits that allege all sorts of crazy behavior,
including kidnapping and hit men
. I suppose if Bryant reacted dismissively, the danger can't have been
that
real. But the dysfunction was as authentic as it gets.
O'Neal announced his retirement from the NBA
back in June
and joined TNT as an NBA commentator
in July
.