Posted by Royce Young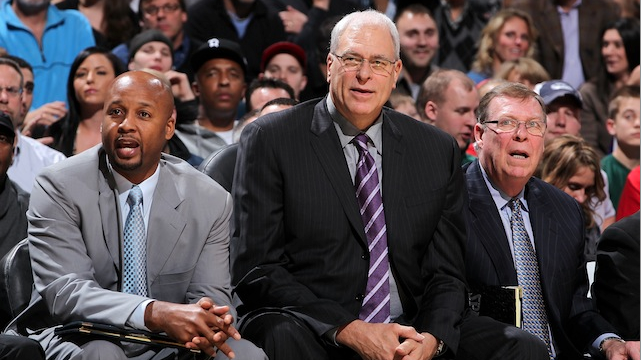 When Phil Jackson stuck to his guns and actually retired, most everyone saw the next man in line to lead the
Lakers
as Brian Shaw. I mean, he already had
Kobe Bryant
's stamp of approval. What more do you need?
Evidently, a whole lot.
Shaw spoke with Sports Illustrated in a wonderful extended piece
about his path to finding a spot next to Frank Vogel in Indiana as an associate head coach. And it's fairly fascinating. He talked about Phil Jackson's advice about interviewing for jobs, why he thinks he didn't get the Laker job and then there's the part where Larry Bird called the triangle offense "bulls---." Good stuff.
"I talked to him last week," Shaw said of Jackson. "I said to him, 'I never realized how many detractors you have out there.' Because when I go out on head-coaching interviews and if I mention the word 'triangle,' it makes general managers and owners cringe. They don't want to hear about the triangle offense, they don't want to hear about Phil Jackson. It was funny, even when I came here and I sat down with them, jokingly Larry was like, 'I don't want to hear anything about that triangle bull----.' And that's kind of the attitude that everybody has."
I sat here for a solid 10 minutes trying to figure out why it would be bad for Shaw to name-drop Jackson in an interview. Because he's got 11 NBA titles? Because he coached Michael Jordan, Scottie Pippen, Shaquille O'Neal and Kobe Bryant? Because most would consider him one of, if not THE top professional sports coach ever? Yeah, don't mention you tutored under that guy. Shaw, continuing:
"Phil let me know going into the interview [with the Lakers] for me to almost disassociate myself from him, that anything that I said about him or the triangle system would hurt me because of his lack of relationship with Jimmy Buss," Shaw said. "So when I did interview, that was the point that I tried to make about the fact that I had played for Phil only my last four years, and that I played for all of these other coaches."
The picture is beginning to clear. More Shaw:
"There were some things that were said that I won't really get into," Shaw said. "It was kind of bashing Phil Jackson, that I just refused to just sit and listen to. And that's when I said, 'Hey, I love Phil Jackson. I appreciate everything that we've all been able to accomplish under him. We've all prospered since he's been the coach here.'"
Obviously as you might expect, Lakers general manager Mitch Kupchak pretty much denied the story being that way. Kupchack: "The fact of the matter, in our organization, there are three of us that made the decision. We interviewed several candidates, and Mike's interview was just excellent and we made a choice and decision as a group to pursue Mike Brown. For me to say anything else would not be true."
Kupchak's naturally going to toe the company line, but Shaw made it clear that it wasn't the Laker GM that held things up. It was the new Buss in control.
"The negativity toward Phil didn't come from Mitch," Shaw said. "It was more from Jimmy Buss just doubting some of the decisions he made in terms of how he was handling and running the team and coaching the team on the sidelines, and sitting down instead of getting up. People look at coaches and want them to pace up and down the sidelines and bark instructions to the guys. That's not Phil's demeanor. That was viewed as a negative in my estimation -- but it won him five championships with the Lakers and six with the Bulls, and that was his coaching style when he won, so why was that not acceptable now?"

[...]

"The only issue I ever had with the Lakers' organization and the way things went down was the way I was handled after having given service for 12 years," said Shaw, who served as a Lakers regional scout for one season before joining Jackson's staff. "I didn't get [an answer] for three weeks after they hired Mike Brown. And I was still protecting them, because when reporters were calling me to find out what happened and how did they let you know they were going in a different direction -- they never did let me know. But I wasn't talking to anybody because I didn't want it to appear like it's sour grapes and he's mad because he didn't get the job."
Brian Shaw is definitely head coach material. The Lakers made what appears to be a good hire in Mike Brown. Things work out different ways for different reasons. No matter what, since Shaw didn't get the job he wanted and felt he deserved, he's going to feel there has to be deeper reasons. That's natural for anyone.
Who knows why or how Brown was picked. Was it really because of Phil Jackson? Seems like a really odd reason given Jackson's resume, but there had to be something. The Lakers will hide behind the curtain of "a new direction" and really, that's all they have to say. Because it's probably true.