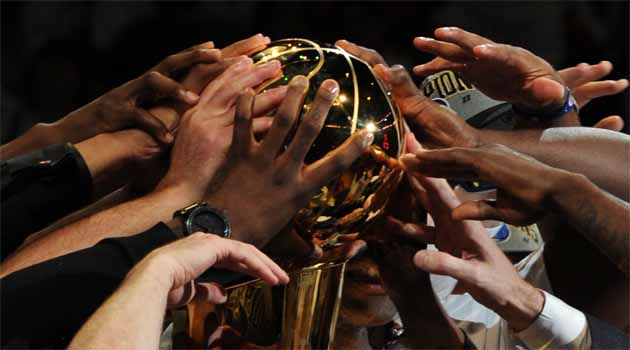 By Matt Moore
Tuesday night would have been a reckoning if there were a season. It would be about more than just a good season. It would be about the past and the future. About a decade of tireless effort, of painstaking consistency and a drive to get it right, and it would be about the years to come, and how bright and hopeful they are.
If there were an NBA season, we'd be watching
Bulls
-Mavericks Tuesday night.
The Dallas
Mavericks
suffered the slings and arrows of outrageous NBA fortune more than any team short of the
Trail Blazers
over the past ten years. They built a championship core, and instead of rebuilding or tearing it down when it didn't work, they kept tinkering, adjusting, taking what worked and trying to make it better. Mark Cuban sunk hundreds of millions into the team in payroll, staff, training, promotion, everything. It's a massively powerful organization, that still didn't have a ring to show for it. Tuesday night would have been the night that
Dirk Nowitzki
could take a step back and appreciate how far he'd come, how all the work and the trust and the blood, sweat, tears, and teeth in his arm were worth it. For
Jason Kidd
it would be a sweet way to usher in the sunset of his career. And the Mavericks, a tighnit group of professionals, could savor entering the season as the top dogs.
The Bulls would just be hungry. Hungry to spit that taste of embarassing defeat from their mouths, hungry to show they still have the best defense in the league, show they were not a flash in the pan, that they don't need massive overhauls.
Derrick Rose
would be ready to ask "Why not me, again?" for MVP.
It would be a terrific matchup.
Jason Kidd's experience, bruising defense against Rose's blistering speed, which would require long stints from
Caron Butler
in help defense, along with every other Maverick between Rose and the rim, especially
Tyson Chandler
. We'd see a chess match between two of the best tacticians in the league in Rick Carlisle and Tom Thibodeau, as Thibodeau would seek to body and help on Dirk at every turn and Carlisle would seek to continue to do what the Mavericks did last season, punish teams for helping by burying them from deep, and collecting offensive rebounds for extra possessions.
Joakim Noah
vs. Tyson Chandler is some sort of future-present meet past-present. J.J. Barea (assuming he re-signed, along with Chandler), would be going at it with
C.J. Watson
. And
Carlos Boozer
, at least for some limited possessions, would be left on an island with the Finals MVP.
Oh, the fun we would have had.
It would have been such a great way to follow up from the most exciting season in over ten years, to embrace a team made up of stars of the past ten years who are in no way done versus a team of stars for the next ten years (plus Carlos Boozer) who are just getting started. It would have been fierce. It would have been fun to argue about who should get the shots in crunch time, whether Rose looks healed mentally and physically, whether the Mavericks really can make a run at a repeat.
Instead, American Airlines Center will be silent and dark Tuesday night. It is day 124 of the NBA lockout.