Posted by Ben Golliver.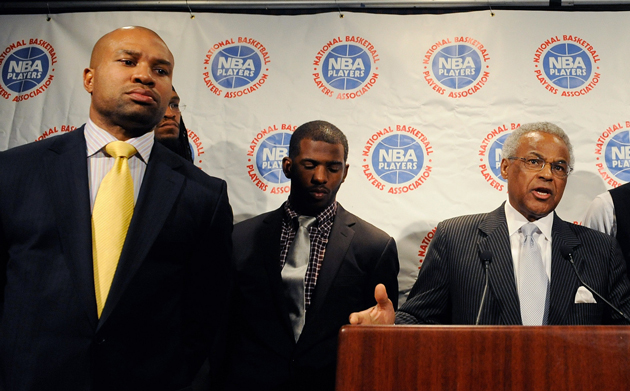 Taking a break during a protracted negotiation is supposed to allow for a reassessment period, to provide time for a rethinking of positions and, perhaps most importantly, to allow space for cooler heads to prevail.
Instead, tensions are reportedly mounting, with frustration and impatience threatening to boil over.
Yahoo Sports reports
that some portion of the the NBA's players are growing increasingly disenchanted with National Basketball Players Association executive director Billy Hunter because he has not yet delivered a deal for the entire union membership to vote on.
From superstars to midlevel players to rookies, there's an unmistakable push to complete the final elements of the system and take this labor deal to the union's 400-plus membership. Beyond that, there's an even larger movement to push Hunter, the Players Association's executive director, out the door once these labor talks are done. All hell's broken loose within the union, and no one is exactly sure how they're going to get a deal to the finish line.

"Billy can't just say it's 52 or nothing, and walk out again," one league source involved the talks told Yahoo! Sports. "That will not happen again. It's time that the players get to make a decision on this, and there won't be another check lost before they do."
The site also apparently confirms
previous reports
of a developing rift between Hunter and NBPA president
Derek Fisher
, a rift that Fisher
denied in a letter
to NBPA members on Monday night.
"Right now, everyone has to choose sides: Billy or Derek," one player involved in the labor process told Yahoo! Sports. "How the [expletive] did it come to this?"
What to make of this? Well, in the absence of actual meetings, which provide the potential for progress and thus the comfort of optimism, there are going to be a lot of hurt feelings. Panicking isn't an unreasonable response, especially if a deal was relatively close but now feels far away. Union members demand action and results from their leadership. Both Fisher and Hunter signed up for that.
For months now, as far as anyone can tell, the NBPA's strategy was to not blink for as long as possible and hope that the NBA's owners were bluffing about being willing to lose games so that they could overhaul the system. The owners never blinked even though they had multiple opportunities to do so. The strategy didn't succeed and the players are now quickly reaching the point where
holding out becomes solely about principle
rather than about economics.
Whether it's time for a leadership shakeup -- or for the current leadership to publicly mend fences -- is a sideshow to the larger issue for the players: It's time for a new strategy. Holding out for the sake of holding out is self-defeating and will be, ultimately, very costly. The NBPA should be using this time away from the bargaining table to take the temperature of its members. As the calendar has changed, so too might have opinions about whether holding out is worth it. If the majority of the NBPA's members continue to endorse the current strategy, then Fisher and Hunter, together, should blanket the airwaves spreading that message, rather than letting rumors and innuendo undercut their authority. If not, what are they waiting for? Call a meeting and get it done.