Posted by Ben Golliver.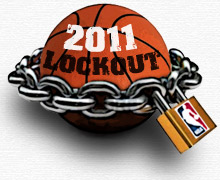 Another bleeping letter.
Yes, just 24 hours after National Basketball Players Association president
Derek Fisher
sent a letter
to his union's membership urging solidarity and denying a report of a rift between himself and NBPA executive director Billy Hunter, Hunter has penned a letter of his own.
Hunter's letter comes just hours after a report that suggested some segment of
the union's members are getting fed up
with his hard-line stance in negotiations.
ESPN.com has
the text of the letter
. Here's an excerpt.
"We will not be intimidated by public threats, ultimatums and manufactured drop dead dates. We will stand firm in our resolve to negotiate a fair deal for our current membership and those who will join our ranks in the future," Hunter said.


"A move of this magnitude guarantees operating profits for all owners irrespective of quality of management and does not allow players to adequately share in the growth of the league."

Hunter, in the letter, said the NBA seems determined to use hard bargaining tactics to get the deal it wants.

"They have given us 'take it or leave it' ultimatums, threatened to end the season prematurely, reached out to players in an attempt to divide us, misled the press, and pre-conditioned further talks on our acceptance of significant concessions," he said. "This is an unacceptable form of negotiation, especially where the respective fates of the players and the owners are inextricably related. Moreover, it does nothing but damage the relationship between the league and union."
SI.com has printed the entire letter
. Hunter concludes by stating that he is on the same page with Fisher.
Contrary to what is being said in the media, Derek, myself and the Negotiating Committee are of one accord. Derek is a fearless defender of player rights both at the bargaining table and behind the scenes, and he carries out his duties as President with the same degree of courage, focus and tenacity that he has exhibited on the court as a five-time champion. We are all well served to have Derek in a leadership capacity during these negotiations.
The NBPA is clearly in full-fledged damage control mode now with two letters sent in the past 24 hours and no negotiation meetings scheduled. The spirit of Hunter's message is on point: unity, common enemy, etc. But, at some point, NBPA leadership will realize that the only letters their membership cares about are "C.B.A."
This was a no-win situation. Hunter had to say something to calm tensions, but his audience -- not to mention the media -- is demanding action, not words. You can't help but wonder how many of this letter's recipients hit the "delete" button before bothering to read it.