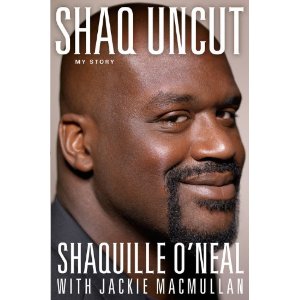 By Matt Moore
Shaquille O'Neal's biography may wind up being the best-selling basketball biography of all time, simply because he tells enough dirt to get sales to an obscene level. After describing in detail his feud with
Kobe Bryant
(including saying he was going to "kill him") the latest excerpt leaked talks about another of the three superstars Shaq played with since 2000. This time, it's
LeBron James
. HoopsWorld has the excerpt:
LeBron was a huge star. He was as big as I was in 2000 in L.A. when I was dominating the league. … Our coach, Mike Brown, was a nice guy, but he had to live on edge because nobody was supposed to be confrontational with LeBron. Nobody wanted him to leave Cleveland, so he was allowed to do whatever he wanted to do.

I remember one day in a film session LeBron didn't get back on defense after a missed shot. Mike Brown didn't say anything about it. He went to the next clip and it was Mo Williams not getting back and Mike was saying, "Yo, Mo, we can't have that. You've got to hustle a little more." So Delonte West is sitting there and he's seen enough and he stands up and says, "Hold up, now. You can't be pussyfooting around like that. Everyone has to be accountable for what they do, not just some us." Mike Brown said, "I know, Delonte. I know." Mike knew Delonte was right. …

I'm not sure if Kobe is going to listen to Mike Brown. LeBron never really did. Here's what we do know: Kobe will definitely be in charge.
via
NBA AM: Shaq Dishes on Kobe, LeBron | HOOPSWORLD | Basketball News & NBA Rumors
.
This isn't a huge shocker, it was well known that Cleveland had let James do what he wanted in Cleveland prior to "The Decision" making the choice to leave in the manner he did all the more infuriating. But Mike Brown being rendered incompetent by management or ownership is a disturbing sign. Shaq's assertion that Bryant will run things in L.A. does overlook a pretty significant element, which is Jerry Buss' son Jim Buss being in charge, and looking to move away from the Phil Jackson era, which was Kobe-centric, as much as possible. Brown has said that the new offense will be focused on post play, which means
Andrew Bynum
, Jim Buss' favorite. Of course, that could just mean that the same problem Brown faced with LeBron in Cleveland could come into play with Bynum in L.A.
O'Neal also touches on
Dwight Howard
, bringing up the Superman thing again, and simultaneously insulting, challening, and sympathizing with Howard. Let me be yet another in a long line of people to wish O'Neal would drop the Superman thing. The iconic character has been around for over 60 years, Howard's physical makeup and personal ethos are much more in line with the alien superhero, and Howard's "Superman" dunk was a pretty iconic representation. The war is over, sir, you ar the Hall of Famer. Move on.
(HT:
SLAM
)