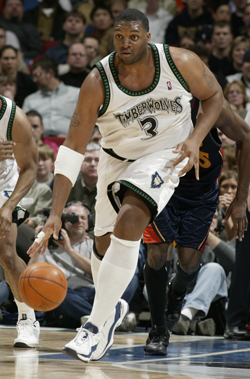 Posted by Royce Young
Way back in April, former NBA player Oliver Miller was arrested for allegedly pistol-whipping a man at a barbecue cookout.
Fun twist in the story too: The man Miller pistol-whipped was his girlfriend's brother. And Miller pleaded guilty to the charge,
according to the Baltimore Sun
:
A former professional basketball player pleaded guilty Tuesday in the pistol whipping of his girlfriend's brother after a dispute at a cookout in Arnold. Oliver J. Miller, 41, a former NBA player, pleaded guilty in Anne Arundel County Circuit Court to first-degree assault and carrying a handgun, allegations that stemmed from a family argument at a cookout in April.

Deputy State's Attorney Thomas J. Fleckenstein said that Miller followed Jason Worley from the cookout, and was seen whacking Worley in the head and face with a handgun outside Worley's home before driving away. Worley suffered a concussion and other injuries, the prosecutor said, but the gun was not found.
The maximum sentence for this is 25 years and Fleckenstein said he will pursue jail time for Miller. Miller has no prior convictions though and with him pleading guilty, obviously he won't get anything near 25.
Miller played nine seasons in the NBA, mostly in the 1990s, averaging 7.4 points, 5.9 rebounds and 2.2 assists per game. The journeyman center played for the Phoenix
Suns
, Detroit
Pistons
, Toronto
Raptors
, Dallas
Mavericks
, Sacramento
Kings
, Minnesota
Timberwolves
and even had a stint with the Harlem Globetrotters.