Posted by Royce Young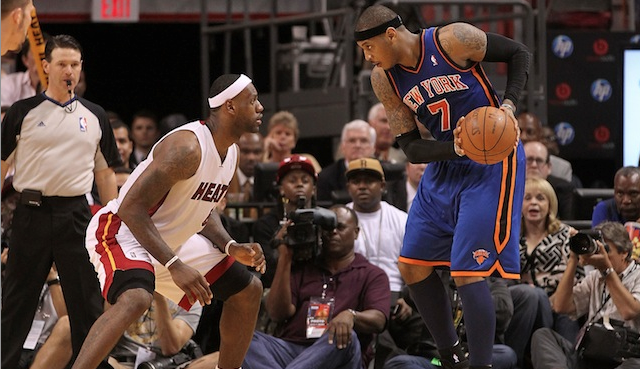 Nothing could compare to the hype and spotlight on the Miami
Heat
in their first season together. Right? The constant scrutiny, the microscope on every little thing -- the Heat were THE story in the NBA last season. Their second year together would've seen some of that fade away as interest in
LeBron James
,
Dwyane Wade
and
Chris Bosh
's experiment waned.
Wrong. Actually, it probably would've been worse this season. Which means like last year, the Miami Heat would've been the thing we all talk about all the time. Why? Because they choked away an NBA title last season. They haven't won. They haven't started to fulfill the promise of "not one, not two, not three..."
And they would've been kicking off Game 1 of 82 tonight. But not just anywhere. They would've been playing at Madison Square Garden. Oh man, this lockout
hurts
.
Both teams virtually would look the same. The Heat had some offseason decisions to make on their elderly players and the
Knicks
had a nice draft pick to unveil in
Iman Shumpert
, but it was going to be Melo, Amar'e and Chauncey versus LeBron, Wade and Bosh. Which was going to be a blast.
Think about it: The last game the Heat played was a heartbreaking Game 6 loss to the
Mavericks
in The Finals. The last game the Knicks played was an embarrassing beatdown in the sweep to the
Celtics
. You want to teams itching for opening night? Well, you got them here. And in The World's Most Famous Arena to boot.
Both teams are good, but it would be the individual matchups we'd salivate over. LeBron against Melo. Wade against defensive-minded
Landry Fields
. Amar'e against Bosh. I'm not sure if the Knicks are really ready to take that step into contendership, but this game would've at least made a statement one way or the other.
The Knicks topped the Heat in Miami late last season with Melo actually taking over the on both ends late. He blocked LeBron and scored a couple of late baskets to seal it. Would that happen again? Or would the Heat start off by asserting themselves as the dominant team in the East? Alas, questions we won't get answers to. At least for the foreseeable future.
Starpower, good basketball, good teams, great atmosphere -- it would've been a helluva way to follow up a great opening night.