Posted by Ben Golliver.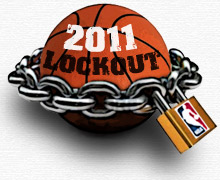 The NBA and the National Basketball Players Association met on Wednesday in Brooklyn. The only problem: they met in a courtroom rather than in a negotiating conference room.
Ken Berger of CBSSports.com reports
that the NBA and the NBPA were in court to give oral arguments in the NBPA's motion to dismiss the NBA's lawsuit. The NBA originally filed suited because the NBPA allegedly threatened to decertify.
Court spokeswoman confirms U.S. District Judge Paul Gardephe did not rule on The NBPA's motion to dismiss NBA's lawsuit Wednesday. Per spokeswoman, Gardephe will ask parties to brief him in writing on additional issues before ruling. Timing of ruling uncertain. Union asking judge to dismiss lawsuit, in which the NBA seeks declaratory judgment on legality of potential decertification by The NBPA.

According to The NBPA, lawsuit has no merit because union hasn't disclaimed interest in representing players and has never done so before. Lawyers for The NBPA characterized lawsuit as "forum shopping," an attempt to beat players to venue for possible antitrust action.

Lawyers for NBA contend union officials have frequently threatened to disclaim, which warrants a ruling from judge on legality.

There's little significance to today's court proceedings. Both sides recognize best shot at a deal is to agree to one at bargaining table.
So, if the courtroom drama is all pretty much irrelevant, when will they head back to the negotiating room?
Berger reports that there are still no new negotiating sessions scheduled after talks blew up last Friday, although he writes that NBPA leadership officials "will convene Thursday for strategy session" but it's "unclear how many players will attend."
What's holding up the talks?
Berger writes that the difference of opinion over the revenue split remains the key issue separating the two sides, and that it's now the primary reason no new talks have yet been scheduled.
No point to more bargaining until each side decides how much -- if at all - it intends to move on BRI. Most other issues resolved. NBA negotiators have talked with labor committee members and other owners this week, source says. Players also have to decide next move.
Earlier Wednesday, there were
indications
that the obvious compromise on the revenue issue might still be possible.