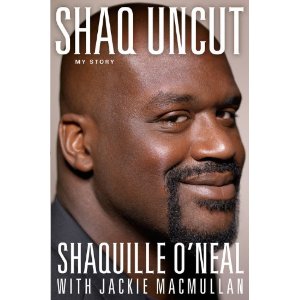 By Matt Moore
Shaq was going to kill Kobe. Shaq says LeBron got his way too much in Cleveland. Shaq's new book, "Shaq Uncut" is turning out to be confirmation of what most people have thought for years. And each day there's a new set of wholly unsurprising yet "Jeez, you don't have to actually
say
it" excerpts that hit the web.
Today's Shaq du jour? Last season with the
Celtics
, Shaq was open. He was ready. He would destroy. And
Glen Davis
wouldn't give him the ball. O'Neal says his response was less than benevolent. From the
Boston Globe
:
"Big Baby" Davis kept looking me off and taking it himself. Doc is shouting at him to go inside, but he won't. So Doc calls timeout and draws up a play for me. I go out there, and I back Andrew Bynum way under the rim. I'm loose, I'm ready. I've got Bynum under the basket and again, Baby won't give me the ball. So I go up to him and say, "If you ever miss me again I'm going to punch you in the face." I was hot.

Two nights later we're playing in Sacramento and here we go again. I take three shots the entire game and again I've got my man isolated underneath the basket, and Baby ignores me and takes a jump shot. So the next time we're in the huddle I let Baby have it.

I tell him, "Pass the [expletive] ball inside." He comes back at me a little bit and now I'm really heated. All hell is breaking loose. We're going back and forth. Doc is standing there and he's not saying a word. The message is pretty clear: Work this out yourselves. I tell Baby, "You're a selfish player. Everyone on this team knows it." Hey, all the fans knew it. He takes shots when he shouldn't.
via
Shaq spills some Celtics secrets in new book -Celtics blog - Boston Globe basketball news
.
Davis was never really known for his mid-range jumper until the 2009 playoffs, when he went to it with great success against the
Magic
. But since then, it's declined. Davis shot 41 percent from 16-23 feet in 2009, but just 33 percent in 2010 and 35 percent in 2011. Too often Davis tends to think that's a shot he should focus on, when his strengths are at the rim cleaning up the offensive glass.
O'Neal's defense fell apart in his later years, but surprisingly, his offense remained effective. But if Davis was aware as Shaq claims everyone on the Celtics should have been that he couldn't be relied on, how could he be expected to pass to him? How do you depend on someone you know you can't depend on?
This story will not help Davis in free agency which he's expected to hit once the offseason begins. If it begins.
(HT:
SLAM
)