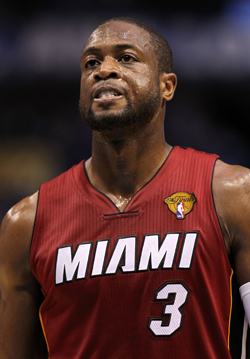 Posted by Royce Young
I really wish
Dwyane Wade
would give this stuff a rest. Because for the thousanth time, he played the "Everybody hates the
Heat
!" card. Wade said the team "played off hatred" and he even took it so far this time that he blamed The Finals loss to the
Mavericks
on it.
Via the AP
:
In an interview with Mike Krzyzewski on the Duke coach's show on SiriusXM Radio, Wade says "we wanted to win to spite people" last season, the first where he had LeBron James and Chris Bosh as teammates.

Wade continued, "I believe that's the reason we didn't win a championship."

Krzyzewski replied by saying, "That's why I love this guy."
OK, so far the reasons we've got from Wade why they didn't win was because of chemistry, because people hated them and because the media focused too much on them, because they just need a little more time together. So far not on Wade's list of reasons: Because the Mavericks were just better than them.
I don't think Dwyane Wade is an excuse-maker. He doesn't strike me as the kind of guy that's going to look for any and every reason why his team failed other than just looking in the mirror. But the whole organization needs to get over this stuff. They're trying to use it as motivation, I get that. But geez man, lay off it for a little while. Say boring stuff like "We just needed to execute better" and leave it at that.
Because really, all this does is make people dislike the Heat more. Nobody feels sorry for them when they brought it all upon themselves. They knew what was coming the second LeBron said those famous seven words. They knew what was coming when they had their dance party before the season started.
Win for whatever reason you want. To spite people, for yourself, for your family -- whatever. But just win. That's how you shut people up.