Posted by Royce Young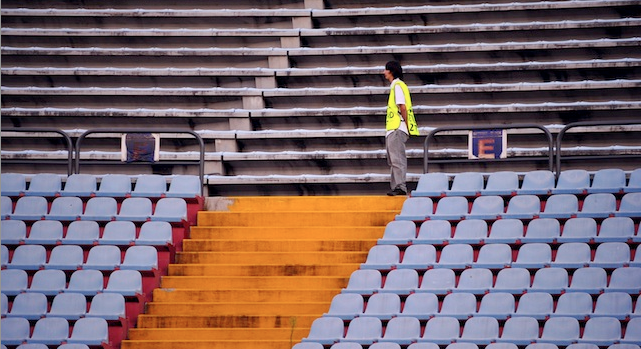 We've all heard or at least thought about the collateral damage done during the lockout. Downtown economies, restaraunts, bars and the thousands of arena employees that make game nights possible.
It's been easy to invoke those employees as a reason to settle the lockout, whether it's legit concern or not. Players have taken to Twitter to apologize to them about them missing paychecks, but you don't really see them doing much about it (
Danny Granger
excluded).
The blight of the arena worker has been something people talk about, a topic of this lockout. But how is it
really
affecting them? Like more than just saying, 'What about the arena workers!?!" how is the lockout hurting those that rely on that second (or primary) job for income to get by.
Consider this story from the Orlando Sentinel
:
In addition to some concerts and a few other events, about 1,000 people worked inside the arena on Orlando Magic game days and game nights. Those folks were employed as security guards, ushers, ticket-takers, vendors, cashiers, parking-lot attendants and waitresses and waiters. Some jobs paid minimum wage, but that income often supplemented the money people earned at their day jobs.

But the ongoing NBA lockout is taking its toll.

"These are the people that greet us with a smile," said Pastor Scott George, who runs the Community Food & Outreach Center, a nonprofit that is offering help to game-night workers.

"They hand us our ticket. They hand us our hot dog and Coke. They clean up after we leave. And, now, they are the forgotten people that no one is talking about."

George estimated that between 40 and 75 game-night workers have used the Community Food & Outreach Center's services over the last few weeks. He said he's unsure of the exact number because some game-night workers are afraid that if they say something, they might not be able to go back to their jobs when the lockout ends.

If there had been no work stoppage, the Magic would have played four preseason exhibitions at home in October and would have hosted their regular-season opener last night.

That's five nights of work — and, now, five nights of lost wages.
You see that? This is
real
. This isn't just talk or PR tactic, make-you-feel-bad stuff. This is really happening. Arena workers in Orlando are going to an outreach center to get food for their families because they lost their jobs. ARE YOU KIDDING ME NBA?
Like I said, we all have heard the pleas to think of the poor little ticket taker man, but nobody really thinks about him. Nobody really considers what that person might be going through. Well, in Orlando, that poor little ticket taker man is having to go to an outreach center to get enough food to cover his losses. Because billionaire NBA owners and millionaire NBA players can't settle on how to split up some $4 billion in revenue, that arena employee has to live with the stress of not knowing where he/she is going to get food for their family.
Awesome job everyone involved. You should be real proud of this.