Posted by Ben Golliver.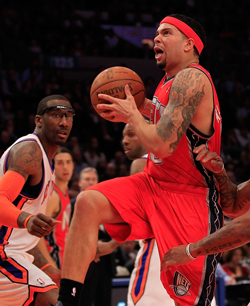 Deron Williams
just posted the equivalent of a personal ad on
his official blog
this weekend, reminding any NBA general managers that are paying attention that he will be a free agent next summer and is definitely interested in entertaining their offers.
At the end of a lengthy blog post about life on and off the court in Turkey, where he is playing for Besiktas, Williams drops the following paragraph for no apparent reason other than to increase the stress level of New Jersey
Nets
fans.
The lockout is still going…if the CBA is finalized and I'll need to come back to the NBA, I think it takes some time for them to get everything on paper, maybe three or four weeks. If we make a deal, I'll try to come back as soon as possible. Also, as far as living, I don't have a place in New Jersey yet. I don't want to buy anywhere, just planning to rent for now. I'm not sure yet what I'm going to do after the NBA season. We'll see…
First, it would make sense for Williams to rent even if he was committed to the Nets. New Jersey is a team in flux, planning a move to Brooklyn that will include a name change re-branding. There's no reason to buy now. That's just logistically logical. If he wants to re-sign with the Nets, he would either need to buy in Brooklyn and commute to New Jersey this season or buy in New Jersey and commute to Brooklyn in the future. Either way, less than ideal. There's real value in waiting.
Of course, the travel logistics are not the major deciding factor here. The Nets sport one of the worst rosters in the league and they took a major gamble in trading
Derrick Favors
,
Devin Harris
, two first round picks and monetary considerations to acquire Williams without any assurances that he would re-sign long-term. The ongoing NBA lockout has wiped out -- at least so far -- the one season the Nets were guaranteed to have his services and it has delayed and compressed (or cancelled) the free agency period that the Nets had hoped to use to find a big-name to help convince Williams to re-sign. In other words, the Nets are a mess compounded by another, much larger mess.
Williams is 27 now. He lost a year of his prime to a trade and he's losing another year of his prime to NBA negotiations. He wants to win now and he will have plenty of suitors next summer who will be able to make a compelling financial offer while also promising a better chance at postseason success. New Jersey will exit the lockout with the ability to make Williams the best possible financial offer but Williams' Turkish experience and his "keeping my options open" stance here suggests that far more than money will play into his summer 2012 decision-making process.
Hat tip: HoopsHype.com