Posted by Ben Golliver.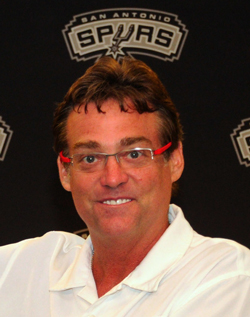 The San Antonio
Spurs
and their management staff are generally held up as the "model" NBA franchise.
That model took a major public hit on Friday night, when
KSAT.com reported
that Spurs GM R.C. Buford was arrested and charged with driving while intoxicated after he allegedly drove through a fence.
Spurs general manager R.C. Buford was arrested and charged with driving while intoxicated after he crashed into a fence, San Antonio Police said. A police spokesman confirmed Buford was arrested after crashing into the fence in the 500 block of N. Leona just west of downtown late Friday night.

The police department said an officer from the Bexar County Hospital District first responded to the scene. SAPD then arrested Buford.

Records at the magistrate's office show Buford was charged with driving while intoxicated with an open container.
KENS5.com reports
that Buford was booked after 3 a.m.
Court documents say Buford was booked into Bexar County Jail at 3:38 a.m. Saturday. He was released on a $2,500 bond.
Buford has served as GM of the Spurs since 2002, overseeing NBA championships in 2003, 2005 and 2007. Prior to serving as GM, a position he inherited from coach Gregg Popovich, Buford rose through the ranks in the scouting department and also worked as team president.
WOAI.com reports
that the Spurs released the following statement regarding the incident on Saturday.
RC Buford, president of sports franchises for Spurs Sports & Entertainment, was involved in a single car accident on Friday evening in San Antonio. The event involving Buford, who is a type 1 diabetic, was precipitated by a severe low blood sugar reaction. A San Antonio police officer responded to the scene and Buford was subsequently detained and charged with possession of an open container and a DUI. No injuries were caused by the accident.

"I take great pride in being a positive member of our community and deeply regret this incident," said Buford. "I apologize to our community, our fans and the entire Spurs family."

The Spurs and Buford indicated they will have no further comments on the incident.
In a 2005 Sports Illustrated profile
, Buford expressed his fondness for adult beverages.
Ask them about their working relationship or who is responsible for what, and they both go coy. "Philosophical differences?" says Buford. "Well, Pop likes wine, and I drink beer. That's about it." Says Popovich, "R.C. tells me when I'm full of crap."
A WIBW.com story from 2008
features Buford re-telling a favorite story, when he and University of Kansas coach Bill Self brought a keg to the 1985 World Series.
Self and Buford pulled up to Royals Stadium, beer in tow, and, amazingly, were able to buy face-value tickets along the third-base line to watch the Royals beat the Cardinals.

That, and they became the most popular guys in town when beer stopped flowing. Who else had cold Budweiser on tap after the seventh game of the World Series –- in their car?

"We were the only guys in Kansas City with beer," Buford said.
Buford is the third member of his family to be arrested for mixing drinking and driving in the last 30 months.
Back in February 2011, Alexis Mang-Ikri Wangmene, a University of Texas basketball player from Cameroon, was arrested for driving while intoxicated in Austin. Buford was serving as Wangmene's legal guardian,
according to MyFoxAustin.com
. Back in July 2009, Chase Buford, R.C.'s son, was arrested on DUI charges in Lawrence, Kansas, where he was a member of the University of Kansas Jayhawks basketball team,
according to KMBC.com
.