Posted by Ben Golliver.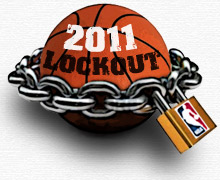 Basketball legend and Charlotte
Bobcats
owner Michael Jordan became the face of the hard-liner NBA owners this week,
when a report broke
that he is the face of a group of 10-14 owners who think a 50/50 revenue split with the players is too generous, preferring instead to offer a 47 percent stake.
On Saturday, as labor talks between the NBA and the National Basketball Players Association were winding down, at least three NBA players took to Twitter to express their frustration with Jordan.
"I'm not wearing Jordans no more," Washington
Wizards
guard
Nick Young
said
. "Can't believe what I just seen and heard from MJ. Elvis Done Left The Building."
"Damn MJ," Indiana
Pacers
guard
Paul George
wondered aloud
. "That's how you feel?"
Later, Golden State
Warriors
rookie wing
Klay Thompson
replied
to George: "You think the 1996 MJ would pull this? Straight hypocrite bro."
George
agreed
: "Man straight hypocrite bro.. He should've been the 1st one behind us smh."
The charges of hypocrisy stem from the fact that Jordan was a major advocate for NBA players' rights during his playing days. During the 1998 labor negotiations, for example, Jordan
famously told
then-Washington Wizards owner Abe Pollin: "If you can't make a profit, you should sell your team."