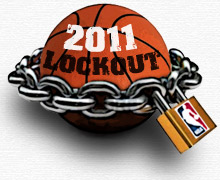 Posted by Royce Young
The players have deemed the league's ultimatum proposal "unacceptable." That much is clear. They have until the end of business Wednesday to make up their mind whether or not they can work with the 51-49 "band" proposal that David Stern outlined Saturday night.
And right now, it doesn't sound like there's any wavering.
Ken Berger of CBSSports.com put it extremely well
in saying that
Derek Fisher
and the players made a tactical error in addressing Stern's ultimatum. As Berger wrote, Fisher should've flipped the script on the Master Negotiator and said that his group is ready and willing to spend the next 96 hours negotiating and bargaining to close out a deal.
According to ESPN.com
, that's exactly the idea.
Sources close to the talks revealed later Sunday that the union is actually holding out hope that the league will call to re-open negotiations before Wednesday, with an eye toward tweaking some of the system issues to lead to a more palatable deal that the NBPA would be comfortable with putting to a vote. The union's belief, sources say, is that a few changes -- none of them monumental -- could produce a deal now that the gap on the revenue was closed further in Saturday's negotiations.
That, to me, is the most reasonable explanation at this point. Because to refute the proposal from the league immediately without even really giving it a shot doesn't seem fair to the process to me. Fisher rejected the deal pretty much all on his own Saturday night (along with attorney Jeff Kessler and Billy Hunter) and spoke for some 450 players by saying it wasn't acceptable.
But could it actually be? Most likely -- and this is just my opinion -- the majority of rank and file players would be willing to vote for the proposal the league laid out Saturday. Fisher knows this and that's why he's likely reluctant to even give them a shot at it. Who else knows it? David Stern, and that's why he made it all so very public Saturday.
It could very well be posturing by the union right now. All this talk of "unacceptable" could just be a ruse to try and persuade the league to bargain once more and present a tweaked and better offer. That's probably wishful thinking at this point, but that could very well be the plan. Because the players might need to face reality: The league's offer Saturday is the best they've seen yet and maybe the best they'll ever get. Not fair, I agree, but that's not really up for discussion at this point.
The union has called a "mandatory" meeting in New York Tuesday featuring all 30 team reps according to the report, presumably to discuss decertification as well as potentially the league's proposal. Holding out for another meeting isn't a bad idea, but by the way Stern spoke Saturday, it seems as if the league has played its hand and is wait for the players to either call or fold.
For better or worse, we'll know their move by the end of business Wednesday.