Posted by Royce Young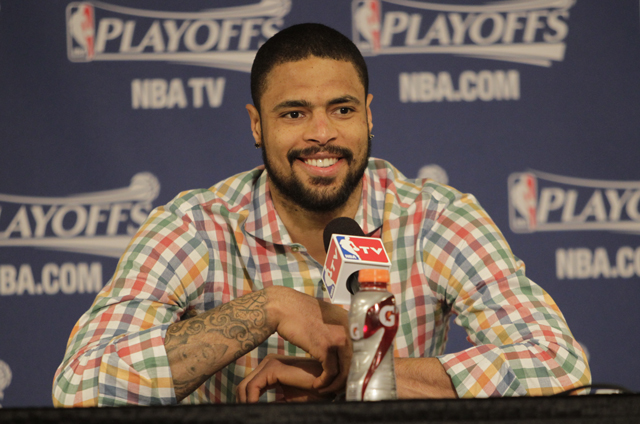 A new collective bargaining agreement could greatly affect a whole lot of teams. The
Lakers
, the
Heat
, the
Celtics
and potentially, the defending champion
Mavericks
.
The next salary cap is supposed to be in the $58 million and the Mavs are already above and beyond that with about $60 million committed. And that's without having re-signed
Caron Butler
, J.J. Butler,
DeShawn Stevenson
and
Tyson Chandler
. If the new luxury tax that's been proposed is adopted, it'll start at $70 million and with it being potentially dollar-for-dollar, the Mavs might not be able to keep all their players.
Tyson Chandler realizes this. And he's blaming the new CBA,
via the Dallas Morning News
:
"With the collective bargaining agreement and some of the things that they're trying to enforce, it would basically prohibit me from coming back," Chandler told KESN-FM FM in Dallas. "It would take it out of my hands — and the organization's — because it would almost be pretty much impossible for me to re-sign. I just think that can be the worst thing that can happen."

"For years, the Lakers have been able to win championships and re-sign their players and keep them there so they can go out for another title," Chandler said. "Now, to put that deal in place after we win ours, I don't like it one bit."
Really not much else to add to that because Chandler's right. The new system would greatly change the way teams re-sign and retain their big name free agents. But then again, it also means that a team like the Mavs can't continue to stockpile big name players year after year. Instead, the talent is supposed to be more evenly distributed.
At least that's the idea.
Here's the thing though: The luxury tax doesn't mean anything to Mark Cuban. Make it dollar-for-dollar or five dollars for every dollar over and he's going to spend how he wants to. If the Mavs want Chandler back, they're going to figure out a way to keep him.
Via PBT