Posted by Ben Golliver.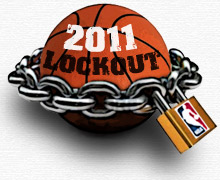 Here we go again.
Months after television commentator Bryant Gumbel sparked a national controversy by referring to NBA commissioner David Stern as a "modern plantation overseer" -- a comment that NBPA executive director Billy Hunter distanced himself from -- union lawyer Jeffrey Kessler has taken to invoking slavery during the most critical stage of the league's ongoing labor negotiations.
The Washington Post reports
that Kessler, like Gumbel before him, made referenece to a "plantation" in a criticism of the NBA's bargaining strategy.
"To present that in the context of 'take it or leave it,' in our view, that is not good faith," Kessler, who also represented the NFL players in their labor dispute with the NFL, said in a telephone interview Monday night. "Instead of treating the players like partners, they're treating them like plantation workers."
Kessler's comments, the paper reports, led Stern to call him the "single most divisive force in our negotiations." They are, by far, the harshest criticism levied at Stern by someone affiliated with the NBPA during these ongoing labor negotiations and they represent a stark contrast to Hunter's more subdued response to Gumbel's similar attack on Stern.
Back in October
, Gumbel said that Stern "has always seemed eager to be viewed as some kind of modern plantation overseer, treating NBA men as if they were his boys." He also referred to Stern's opinion of the players as "hired hands."
Gumbel's controversial comments sparked a round of responses almost immediately given that a vast majority of NBA owners are caucasian while a vast majority of NBA players are African-Americans.
Shortly after Gumbel's comments were made
, NBA deputy commissioner Adam Silver said that they were "outrageous."
Hunter said that
, while Stern is a "hard-charger" in negotiations, he is not racist "at all." Basketball Hall of Famer and TNT commentator Charles Barkley
simply called
Gumbel's comments "stupid." The Reverend Jesse Jackson
warned such talk
could make these negotiations take an ugly turn.
Coincidentally on Tuesday
, Stern was asked in an interview for his thoughts on Gumbel's comments. "I think that's just an occupational hazard," Stern said. "If you're the head of the league you take what everyone dishes out."
The Sporting News notes
this is not his first explosion. He has recently accused Portland
Trail Blazers
owner Paul Allen of "hijacking" negotiations and he recently called the NBA's offer to players a "fraud."