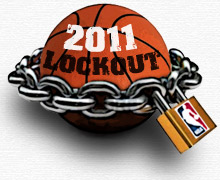 By Matt Moore
Ken Berger of CBSSports.com reports
that players and league officials are close to arranging a meeting for Wednesday at 1 p.m. in New York, with a league-imposed deadline that could spell the end of the season looming at the end of the day. The meeting is reportedly only a small group, which has resulted in progress in the talks in other meetings.
Tuesday, the NBPA met and
afterwards described the current offer
from the league, which expires at the close of business in less than seven hours, as "unacceptable." After the close of business, the league's offer will revert back to a flex-cap offer that eliminates guaranteed contracts, takes years off of contract max-lengths and generally sends the players' strength back to the stone age. During the press conference after the NBPA meeting, Billy Hunter said he
wanted to meet with the league
. David Stern
responded by saying he would always take Hunter's call
, and would discuss it with the NBA's Labor Relations Committee, but would not commit to a meeting.
Hard-line owners don't necessarily want a meeting, feeling they have already surrendered too much in negotiations. Meanwhile, the players have intimated they're willing to drop to 50/50 if certain system concessions are granted. Unfortunately, the owners consider "concessions" to be defined by "letting the world have a proffessional basketball league" and "not going after the players' houses and personal possessions."
If a deal isn't made at the meeting, and the NBA decides to follow through on its threat, the NBPA is set to immediately file a petition to decertify (
Paul Pierce
has told Billy Hunter
he has close to 200 signatures at this point
), kicking off the legal process. That would pretty much destroy any chance of a season, though the two sides could continue to negotiate through the 45-day waiting period until the NLRB rules on the petition to set up a vote.
The onus is on the NBA to take a meeting and accept the concessions from the players while offering them some sort of bone to save the season. Otherwise they're electing to own a professional basketball league that doesn't actually play basketball for another year, possibly more.
No pressure, guys. Really. Take your time.