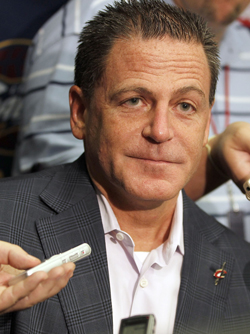 Posted by Royce Young
There have been some serious villains painted during the lockout. Paul Allen.
Kevin Garnett
. Jeffrey Kessler. Robert Sarver. And Cavs owner Dan Gilbert.
Both Sarver and Gilbert have been seen as two owners pushing hard to get a runaway victory,
with some reports even having Gilbert and Sarver being a reason
talks blew up at one point. But Gilbert might not be near as hardline as once thought.

Ken Berger of CBSSports.com wrote this Wednesday
:
Though it may be surprising to some, Phoenix owner Robert Sarver and Cleveland owner Dan Gilbert have not been as hawkish in the negotiations as they have been portrayed, two of the sources told CBSSports.com. Nets owner Mikhail Prokhorov, it turns out, also is not in the hawkish camp, according to two people who disputed a CBSSports.com report Sunday to the contrary. I wouldn't wager my mortgage on who's right about Prokhorov, but I would love to have him at the news conference when this is over.
And then there's this report from
ESPN.com saying Gilbert is no longer a "hawk" owner
:
However, multiple sources have confirmed to ESPN.com that Gilbert has adjusted his position in recent days and moved into a more moderate mode, voting with fellow owners who are willing to accept a 50/50 share of BRI.
A move to the middle for multiple owners signals good news for a deal. It's getting to that point where an agreement is near and the owners that have played hardball might be willing to soften just to get something done. There are still plenty of hardline guys, but the number appears to be shrinking.
The players acted as if they were prepared to walk in to Wednesday's meeting to offer a 50-50 BRI split, which has long been the hangup for owners. If that happens and the owners can meet them in the middle on some system issues, a deal will happen. It just has to.
And the reason for it will be owners like Gilbert, who were once dug in, moving off their stance. How about that: Dan Gilbert could be a good guy for once.