Posted by Ben Golliver.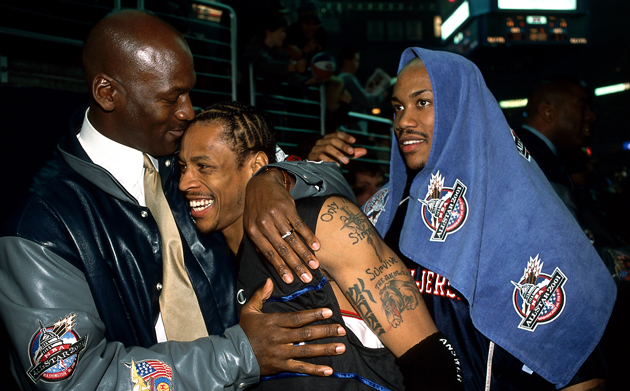 I know, I know, Stephon Marbury has a giant tattoo on his head and wasn't coherent for about three years there so you want to tune out everything that comes from his mouth. Totally understandable.
When it comes to this NBA lockout stuff, though, Marbury has been surprisingly on point.
All the way back in January
, for example, the former NBA All-Star now playing in China was one of the first to publicly predict that the NBA players would "cave." 10 months later, the National Basketball Players Association has reportedly offered billions of dollars worth of concessions without obtaining a single improvement to the Collective Bargaining Agreement.
On Tuesday, Marbury
took to Twitter
to address another lockout hot topic: NBA legend and current Charlotte
Bobcats
owner Michael Jordan's role as a hard-liner in these negotiations.
Marbury, as per usual, minced no words.
Micheal Fake Jordan is a sell out. #Period. He forgot which hole he came out of. I said it "Stephon X Marbury"... MJ went from MJ the black cat to a guy who forgot he was a player. Sell your team if you can't make a profit.. Your just a regular dude now! ... When he rapped the Bulls for 36 million for one year no ones said nothing about that...

He's just a man. I know he's some people's GOd but real is real. Dude forgot he played and demanded millions... he wasn't my idol I just loved his game. He never did nothing that I knew about to change the life off of the court other then hit cats over the head for a 100 150 dollar sneakers and still doing it. Jim Brown said it best. Micky mouse type cat. Wave and break you pocket for as long as he can.

he didn't create nothing. The game was played way before him...
Marbury hits on
similar criticisms leveled at Jordan by current NBA players recently
. The main charge is hypocrisy, because Jordan was one a strong advocate for players' rights as a player. But Marbury goes further than Washington
Wizards
guard
Nick Young
, Indiana
Pacers
wing
Paul George
, and Golden State
Warriors
forward
Klay Thompson
went in their criticism. Marbury questions Jordan's loyalty to his race, attempts to undercut his importance to basketball as a whole, and slams Jordan for charging so much money for his signature sneakers.
In one breath, Marbury accuses Jordan of being a selfish hypocrite working against his race's best interests while receiving too much credit for his contributions to his sport. That's not just "
keeping it 100
," that's more like keeping it approximately 284. He went in so far he's tweeting from a bathtub filled with magma.
Marbury is the rare former NBA player with nothing to lose by launching such an attack on the Greatest Of All Time. That's because he does't have much left. His credibility is in tatters, he's been cast out from the NBA, he's plying his trade half a world away and he is reportedly in
millions of dollars worth of debt
over his own failed sneaker company.
Taking a moment to let them sink in, these comments leave you shaking your head. That's essentially unavoidable when a man who once devoured vaseline and live-streamed himself getting into a car crash decides to take up major social consciousness issues. But Marbury's attack here, more than anything, makes you wonder how many others agree with his thinking but are too tied into the NBA's system, or too easily influenced by Jordan's legendary power and influence, to speak up?
Is this another chapter in the ravings of a mad man, or a rare peak behind the curtain at a colleague's resentment -- perhaps silently shared by others -- of the most successful professional basketball player ever's actions and approach.