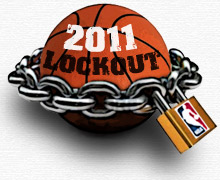 Posted by EOB
Another eleven hours of meetings... another disappointing ending with both sides saying there is no reason to be optimistic. So glad they're productive in these things. You have to wonder just what they're doing in there. Do they just stare at each other for long periods of time? Do they keep getting distracted with the danish? Anyway, we'll keep you updated with the latest developments leading up to and during the meeting at noon today here.
For previous Buzz posts to see how this thing has unfolded over the past two days,
click here
and
here
.
Friday 12:04 a.m.

First off, read

what happened after the meetings here

. In short: union's not happy with it but will take it to membership to consider, it's not "last, best offer" but the owners will revert back to "cap reset" offer if the players don't accept, and if they do take it,

it's a 72-game season

. Three days to consider, then NBPA meets Monday or Tuesday.

Yahoo Sports reports that agents in pursuit of decertification have the 200-plus votes necessary to file their petition for a vote on "involuntary decertification." This is not a doomsday move, as the petition will take 45 days to be reviewed by the National Labor Relations Board. Additionally, it's likely the NLRB will want resolution to the NBA's complaint to the NLRB and subsequent lawsuit pertaining to the NBPA's "good faith" bargaining and decertification before ruling on any effort to decertify. While that process is ongoing, both sides are free to continue bargaining, even if the NBA says it's done bargaining. If the petition is ratified by the NLRB, a vote would be held with a simple majority needed to dissolve the union, clearing the way for lawsuits and signaling the end of any hope for the 2011-2012 season and possibly beyond.

Thursday 10:49 p.m.
The "revised" offer the NBA is making tonight could be significant. The players could love it, or they could say "that's it?" ESPN.com reports: "Ownership source says revised offer will give players "meaningful stuff" while staying at 50/50 BRI. Called talks 'complicated.'" That seems to be important. The BRI remaining at 50/50 is key and if the players can finally win some on the system, that could be enough to push things over a bit.
Thursday 10:12 p.m.
Ken Berger of CBSSports.com confirms a Yahoo Sports report that after a conference call with the BOG's labor relations committee, David Stern will present the union with a revised offer. It is not a reversion to the "cap reset" offer the league threatened earlier this week with a 5 p.m. Wednesday deadline. If it's closer to what the players are looking for and talks continue, well that doesn't mean anything, but it's not bad. If it's a "take it or leave it" repeat of what we saw two weeks ago, well then make sure to tip your waitstaff, folks.
Thursday 9:15 p.m.
NBPA executive board member Roger Mason, Jr. sent a Twitter message in response to a question from T.J. Ford, who wanted to know whether the lockout was over. "

No bro. Still a ways away..," Mason wrote.
Ken Berger of CBSSports.com with his latest dispatch, which notes that an apparent compromise has been reached on a new mid-level exception for luxury tax payers but that other issues have arisen.
Thursday 5:40 p.m.

And on the flip side of the Checketts report, we have this from a source via Howard Beck of the New York Times: "Nothing has changed between last night and today." That's pretty terrible if on point. Granted, reps would be spinning this as such until it's actually agreed upon, but if that quote is wholly accurate, it's damning. Both sides could be thinking they're making progress and could really just be spinning their wheels. Wouldn't be the first time.
Yahoo Sports reports that Stern hasn't brought a completed deal, or even a framework, to the labor relations committee. Until that happens, this is all unicorns and rainbows. It's like a Lisa Frank binder, with BRI.
Thursday 4:54 p.m.
Ken Berger of CBSSports.com though says not so fast. He tweets: "Person in the room assures me that no agreement has been reached. They're about to hit the five-hour mark here in New York."
Thursday 2:23 p.m.
Are the two sides targeting a Friday deal? From ESPN.com: "Next big hurdle in NBA labor dispute: Sides finally agreeing on restrictions for tax teams on use of mid-level exception and sign-and-trades. Bigger hurdle after that: If (NBA commissioner David) Stern/(union executive director Billy) Hunter strike deal by Friday, as sources say they're targeting, will their owners and players vote in favor?"
Well, that didn't take long. Reports are already starting to trickle in about things not going well at the meeting which started at noon EST. Alan Hahn of Newsday reports that inside of an hour in, he's not hearing positive feedback. Apparently the small-market owners have shown back up to bully and prod again, including reportedly Peter Holt, owner of the Spurs. SI.com reports that things sound "stalled." It's like we all keep waiting for the owners to blink in this game of chicken they're playing with themselves, and they just push the pedal harder.
Thursday 1:12 p.m.
So if a deal is reached today, how many games could we be looking at? The NY Post previously reported 78 games would be an option and now is saying 76 could be what the league goes for. "If a deal is reached today, there is a possibility of a 76-game season. The Post has reported if a deal was hatched by last weekend, a 78-game season was possible. Sources said the number of games would have to be an even number." Obviously it has to be an even number so that all teams have the same amount of home and away games.
Thursday 9:31 a.m.:
Let's begin with Ken Berger of CBSSports.com who pulled the Lockout Hotel residency once again last night. It's clear that the biggest issue that remains is the players want the league to make systemic concessions in exchange for the bigger cut of the BRI pie. The league responds that the two elements are independent, and as long as that's the case, we're not getting a deal.
Yahoo! Sports reports that three of the five system issues included in the league's proposal had movement taken on them. SI.com reports that one of the remaining two elements under fire is the use of the Mid-Level Exception by teams in the luxury tax. Owners wanted a provision to prohibit teams in the luxury tax from being able to use the MLE, but reportedly have softened to only halve the amount teams in the tax can use on the MLE relative to non-tax-paying teams. So the MLE has had movement and is still a ways away, since players remain opposed to any provision which limits teams' use of the MLE, for reasons outlined by SBNation's Tom Ziller Thursday morning. That's what the fight may come down to, the MLE. David Aldridge of NBA.com reported on both the three issues which gained movement and the MLE still being an issue.
Brian Mahoney of the AP notes an interesting element in the pressers last night. Billy Hunter said the two sides had not even touched BRI. While it's true what Mahoney notes about both sides spending most of the time apart (a relatively childish image to conjure up about what is a huge and very serious negotiation, like junior high girls passing notes between huddles), the reality is that BRI doesn't need to be discussed because if the players wouldn't move to 50/50 with the provisions being discussed, there'd be no point in continuing talks. 50/50 is assumed, which is, in itself, a massive concession for the players and yet still not enough for the owners.
ESPN.com has a particularly noteworthy anecdote to share. It's not a game-changer, it could be nothing, but it's worth discussing. On his way out, David Stern talked with the union's economist Kevin Murphy, who has another job andfo course is juggling his committments to attend the meetings. According to Henry Abbott of ESPN.com, Stern "encouraged Murphy to show up, saying 'it will be a good day to be here.' That could be nothing, it probably is nothing, but it's still a sign of hope from the biggest doomsday machine of all, whose 5 p.m. deadline that was supposed to bring the harbinger offer of doom came and went without even any property damage.
We remind you, once again, to not get your hopes up. The two sides are still far apart, still entrenched, and every minute that goes by makes it more and more likely the owners will decide it's time to increase their leverage to get one final element which could get the union to walk, knowing that in the long-run they'll get a better deal, and every minute makes it more likely the union will elect to decertify and fight than lay down any more to the league's incessant demands.