Posted by Ben Golliver.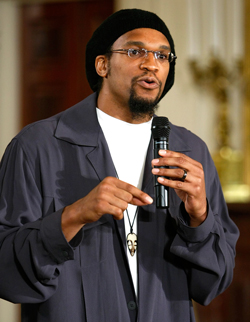 National Basketball Players Association vice president and sometimes poet
Etan Thomas
has been one of the fiercest advocates for the players in the ongoing NBA lockout.
In his latest ESPN.com diary entry
, Thomas carefully compares the NBPA's somewhat helpless position in its labor negotiations with the NBA to the "Occupy Wall Street" movement that swept the country in 2011, protesting corporate greed and championing the rights of the working class American.
Thomas refers to the NBA's owners as "NBA CEOs" throughout his entry and urges fans to look past the NBA players' million dollar salaries to see that the league's unchecked self-interest has led to the ongoing work stoppage.
While the issues raised by the Wall Street occupiers differ from the issues of this lockout, aren't there obvious parallels in power imbalance?

Who is in the same position of power as the 1 percent? Who wants a bailout for their own mismanagement decisions? Who is more closely aligned with the corporate interests from which the Wall Street occupiers are looking to reclaim the country?

Why does race always have to be injected into this power struggle? Do people understand that the only color the 1 percent care about is green? They have a lot of it, they want a lot more of it, and they will step on anyone's (black, white, brown, etc.) neck to get it.

During the lockout of 1998, Michael Jordan famously said to Wizards CEO Abe Pollin "If you can't make a profit, you should sell your team." That was then and this is now. Why do people have difficulty understanding that he is no longer a player but currently joined at the hip with the rest of the CEOs of the NBA, who -- like Bank of America, Wall Street and the rest of the 1 percent -- not only want but expect a bailout for their own actions?
To be clear, Thomas acknowledges the large sums of money NBA players receive for their services. He rhetorically asks, "Would the players be lumped in with the 1 percent because of million-dollar salaries?" The answer, for the average American, is "yes, of course." Despite the fact that the average NBA career is four or five years and the median NBA salary is between two and three million dollars -- not necessarily capable of providing a lifetime's worth of luxury -- any salary with that many zeros is unimaginably huge for a vast majority of working class Americans.
Dollars aside, many people can relate to the frustration in Thomas' words. The average Joe gets short-changed by their banks, bamboozled by money lenders and hosed by insurance companies on a regular basis. For lots of people, even those in unions, the only answer available when confronted with a one-sided power struggle is to take their lumps and move on with life. Thomas aims here to change some of those minds, to open eyes and explain why the NBPA wants to keep fighting a potentially impossible and damaging battle. There is true valiance in his honesty. Lacking leverage in a negotiation and suffering because of it is not a reality that is restricted to certain tax brackets.
Unfortunately, his most importance audience is a collection of deaf ears. A vast majority of his fellow players aren't reading Thomas' words, they aren't attending NBPA regional meetings, and they aren't staying on message on Twitter. They've tuned out the finer points of the labor negotiations and assume a reasonable resolution will be reached at some point. They will vote "yes" on the new deal, whatever it looks like, as soon as they are allowed to by their union so that they can get back to work.
Given that, Thomas reads more like a future martyr than as an active leader. Sadly, his words are most likely to ring true 10 years from now, a time when we're likely to wonder, "Why was he the only one speaking up like this and why weren't the players listening?"