Posted by Ben Golliver.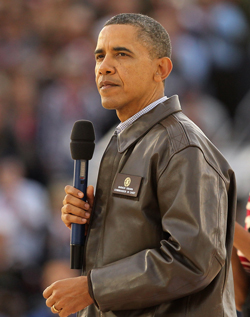 Ask not what your country can do for the NBA. Seriously. Because it plans to do nothing.
United States President Barack Obama has said recently that the ongoing NBA lockout has left him "
heartbroken
" and that he is "
concerned
" that the league will lose the entire 2011-2012 season. Nevertheless, he does not plan to help the league's owners and players reach a compromise in their current labor struggle.
The New York Times reports
that Obama, speaking from a high-profile college basketball game on Friday, says that he is staying out of it.
Asked about the impasse between the NBA owners and players, Mr. Obama quipped, "It's killing me." But he said, "I'm not going to intercede. I've got some bigger fish to fry."

"In a contest between billionaires and millionaires," Mr. Obama said, "they should be able to figure out how to divvy up their profits in a way that serves their fans, who are allowing them to be making all this money — not to mention all the folks who work in the concession stands and in the parking lots of facilities all across the country."
Aside from his fish frying point -- and there's no question that there are more important issues than professional basketball facing the world today -- entering the lockout morass represents a lose/lose/lose situation for Obama.
If he's been following the day-by-day non-progress carefully, he realizes that he would be dealing with two sides that are fairly well dug in and dead set on their visions of the sport's economics. Crafting a miracle compromise is unlikely. Guess who takes the blame if there's a lost season in that situation? Not the players, not the owners, not even NBA commissioner David Stern. Obama does. The buck always stops there.
But let's say there is a deal. However it's crafted, there are bound to be winners and losers. In all likelihood, the owners will be winners and the players, already having promised billions in concessions, will be losers. Obama, the people's champion, would then open himself up to criticism that he co-signed a new collective bargaining agreement that favored big money interests and not the common man. He does have a presidential re-election campaign to run after all.
Lastly, entering the NBA mess would take real commitments of time and, likely, money. Given his reputation as a well-known hoops head, critics would jump at the opportunity to say that Obama is putting basketball ahead of (pick your favorite issue out of a list of thousands that people passionately care about). A President, of course, must appear to be of, by and for the people, not just himself or his friends.
Put it all together and Obama is damned if he tries, damned if he succeeds and damned if he fails. As Commander in Chief, he has the luxury of picking his battles. It makes sense that he would run from this one.