Posted by Ben Golliver.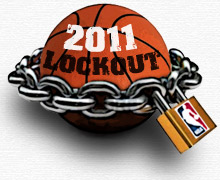 Hours after Billy Hunter declared the National Basketball Players Association dead, he sent a letter to the NBPA's membership explaining why.
Following a Monday morning meeting of the NBPA executive board and player representatives in New York City, Hunter said that he had
moved to file a disclaimer of interest
which would dissolve the players union, a necessary step so that the players could pursue antitrust litigation against the NBA.
"The collective bargaining process has completely broken down," Hunter said. "As a result, within the last hour, we served a notice of disclaimer on commissioner Stern and the NBA."
Monday evening, Hunter sent a letter to NBPA members,
obtained by ESPN.com
, explaining the move.
"We will now function as a trade association to assist and support NBA players, but we will no longer engage in collective bargaining with the NBA owners," the letter read. "The Players Association will instead dedicate itself to supporting individual NBA players in the assertion of your non-labor rights to be free of any illegal restrictions on competition for your services."
Hunter's letter went on to express hope that the move would lead the NBA to nd the ongoing lockout.
"With no labor union in place, it is our sincere hope that the NBA will immediately end its now illegal boycott and finally open the 2011-12 season," the letter said. "Individual teams are free to negotiate with free agents for your services. If the owners choose to continue their present course of action, it is our view that they subject themselves to significant antitrust liability."
The letter reiterated that the NBPA can no longer engage in collective bargaining negotiations with the league. It also said that the NBPA has to withdraw its unfair labor practice charge that was submitted to the National Labor Relations Board.
The players will now be represented by union lawyers Jeffrey Kessler and David Boies.