Posted by Ben Golliver.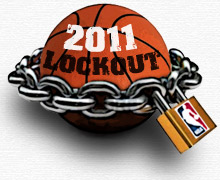 On Monday
, the National Basketball Players Association sent the NBA a disclaimer of interest, folding up the union and turning the keys over to lawyers. It was a move that NBPA executive director Billy Hunter admitted would lead to a "high probability" that the 2011-2012 season, and NBA commissioner David Stern replied to the action by saying that the league was headed for a "nuclear winter."
But all hope is not lost.
Sports law expert and Tulane professor Gabe Feldman
told the Orlando Sentinel
that the legal process the NBPA is heading for could be wrapped up quickly enough to save at least some portion of the 2011-2012 regular season, which has already seen its first six weeks canceled.
OS: So is the ultimate upshot here that a season is now much less likely after today's events?

I don't know that it's "much less likely." I just think that the upshot here is that the players have taken a significant step to try to gain leverage at the bargaining table and the upshot is that the season will certainly not start as quickly as it would have without the disclaimer.

But it doesn't mean that the season won't happen. I think a much more shortened season is an inevitability at this point. But the litigation process could take place quickly enough to allow the players and the owners to determine how much leverage they have. It wouldn't mean an entire antitrust lawsuit is litigated because that could take years. But the preliminary fights could take place in a manner of weeks and could be resolved in time to save part of the regular season.

Folks have discussed this as the "nuclear option," and David Stern himself has said we're in for a "nuclear winter." It's not irreparable harm here. They can put the pieces back together in time to save the season.
NBA commissioner David Stern
labeled the disclaimer
a "negotiating tactic" in his Monday morning address, so everyone seems to agree that it's a move with legal as well as posturing implications.
But when will the legal stuff start playing out? That remains an open question.
David Boies, new counsel for the NBA players, said Monday that no official lawsuit had yet been filed and seemed to imply,
in a question and answer session with ESPN.com
, that there might not be one forthcoming.
If -- and I say if because first of all, we haven't filed a lawsuit -- a lawsuit were filed, but if a lawsuit were filed and if there was an interest in settling that lawsuit, then as Jeffrey says, what would happen is the lawyers for the players would meet the lawyers for the owners and we would try to come up with some kind of settlement.

That settlement would be something that would open up the league to play. But you would not have a collective bargaining solution.
In other words, we all sit and wait until the players make this thing official. Our lockout purgatory is now in a purgatory of its own. Exponential legal purgatory is about as far from basketball as one can imagine and as deflating as it gets.