Posted by Ben Golliver.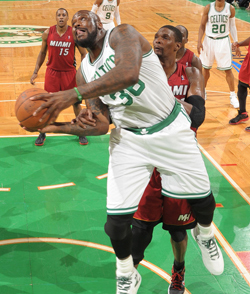 We can't count on the NBA these days, but it's good to know that basketball legend Shaquille O'Neal will keep right on dissing Miami
Heat
forward
Chris Bosh
, lockout or no lockout.
The Palm Beach Post reports
that O'Neal takes a swipe at Bosh in his new autobiography,
Shaq Uncut
, which is set for release on Wednesday.
"Some guys come into the league without a ton of props, so there's not a whole lot of pressure on them. Then they sign a big deal and all of a sudden they're thrown into the spotlight. Chris Bosh is like that. He's getting all this attention, so he starts believing he's really good. C'mon now. We know better. He's a player who can put up some numbers, but he's not an elite player. He was in Toronto eight years and they were never a factor, never a playoff team. Don't get with those other two guys and start pounding your chest. I ain't buying it, and I'm not the only one."
Bosh's
Raptors
twice made the playoffs but did not advance out of the first round.
All things considered, this is a disappointingly tame criticism from O'Neal, at least by his own standards.
In 2009,
the Arizona Republic reported
that O'Neal had much harsher words for Bosh after a dispute over his free throw shooting technique.
After Shaquille O'Neal scored 45 against Toronto on Friday, Raptors star Chris Bosh said O'Neal had benefited from officials ignoring his three-second lane violations.

"I heard what Chris Bosh said, and that's strong words coming from the RuPaul of big men," O'Neal said. "I'm going to do the same thing (in their next meeting) I did before - make him quit. Make 'em quit and complain. It's what I do."
RuPaul is a well-known drag queen.
Then,
back in July
, O'Neal was quick to slight Bosh in his analysis of the 2011-2012 championship contenders.
"The Miami Heat, they've got a lot of great players, the 'Big 2.' They will be back," O'Neal said from Louisiana during the broadcast, when discussing the NBA Finals and how Dallas was able to beat Miami for the title. "LeBron James is taking a lot of criticism, but I know LeBron very well. He hears everything that everyone is saying, so I think he's going to come back and have an MVP year this year."

"Dwyane Wade, LeBron James, you know, they're great players, they're probably the greatest backcourt ever assembled," O'Neal said. "And you know, they're going to get back. They're going to get back. They play well, they went through a lot, they put a lot of pressure on themselves. That's how they like it. And they will be back."
And that's essentially the theme he has going in his book. James and Wade are great; Bosh is an afterthought. It's not a particularly original assessment -- millions of casual fans reached the same conclusion last year -- but it is interesting to hear it from O'Neal's perspective.
At various points of his career, O'Neal was a talented rookie looking up to established Hall of Fame centers, the best player in the league leading a title contender, a second fiddle on a title contender, and a broken down big man who couldn't stay healthy long enough to get on the floor. That's a lot of different roles and they combine to shape a uniquely qualified perspective. The truly elite players in the game have each other's respect, even if it's begrudging. O'Neal, for example,
threatened to kill
Kobe Bryant
when the two were Los Angeles
Lakers
teammates, but the
Palm Beach Bost
notes that O'Neal compliments Bryant in his book: "Kobe is a scientific dawg. He works out every day, practices every day. Most of the other stars are just dawgs, not scientific dawgs."
I guess this all comes down to that old adage about respect being taken and not given. Whether because of his personality quirks or the nature of his face-up game, it's clear Bosh has not compelled respect from O'Neal. The interesting question to watch going forward: Will O'Neal's tune change if Bosh contributes to a Heat title?
Hat tip: ProBasketballTalk