Posted by Ben Golliver.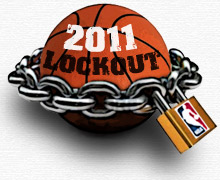 The news was implied, assumed and the announcement, given recent events, is a formality. Nevertheless, the NBA officially cut another portion off its 2011-2012 regular season schedule on Tuesday.
Yahoo Sports reports
that the league "informed late this afternoon [Tuesday] games through December 15th have been cancelled, a front office executive says."
103 games will be lost during this span.
NBA commissioner David Stern had
targeted Dec. 15
as the start date for a 72-game regular season in the league's most recent proposal to the National Basketball Players Association, delivered last Thursday. Stern has made regular reference to "the calendar" determining the cancellation schedule and has stated that the league needs one month from the date an agreeement is reached to have sufficient time to begin its season. The NBPA rejected the NBA's proposal and issued a disclaimer of interest, disbanding the union and threatening to take the labor impasse to court.
The New York Post reported
last weekend that the NBA had modified the schedules on its website to remove all games from Dec. 1 through Dec. 14.
Tuesday's cancellation represents the third cancellation of games in two-week increments. The NBA has now canceled a total of 324 regular season games. On Oct. 28, Stern
announced the cancellation
of all games from Nov. 15 to Nov. 30. On Oct. 10,
Stern cancelled the first two weeks
of the NBA regular season, spanning from Nov. 1 to Nov. 15. On Oct. 4, Stern
cancelled the NBA's preseason
.