Posted by Ben Golliver.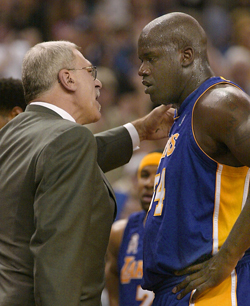 One recently retired NBA legend thinks another recently retired NBA legend might not actually be done for good.
The New York Daily News reports
that Shaquille O'Neal -- center on three title-winning Los Angeles
Lakers
teams coached by Phil Jackson -- thinks the Zen Master might have at least one more round of meditations left in him.
Jackson, of course, is currently retired but it is already being speculated that the Hall of Fame coach will resurface with the Knicks next season. Current Knicks head coach Mike D'Antoni is in the final year of his contract with the club.

"He may come back," O'Neal said of Jackson. "Phil says he's never coming back but he changed my NBA career. His focus and the way he did things and the way he taught us how to do things. He did it on a cool, calm respectable level. Then I went to Miami and we had problems with all the (yelling). I'm like 'we just won three out of four with this guy (Jackson) so why would I do it this way?' That's why we had problems."
The timing of Jackson's retirement this summer was no accident. He made it clear throughout last season that he had no stomach for the NBA's labor saga, and he struggled to keep his opinions to himself when it comes to hot-button issues like contraction and revenue sharing. That he would retire to the Montana wilderness just as commissioner David Stern and National Basketball Players Association Billy Hunter were sharpening their pencils and elbows in preparation for legal war wasn't much of a surprise. That his Lakers team embarrassed itself with dirty play during the 2011 playoffs only removed the possibility of any second-guessing, especially with the core group appearing to have crested after back-to-back titles.
We know this for sure: Jackson is only coming back to coach a serious title contender with sufficient starpower already in place. He's old enough, at 66, and decorated enough, with 11 rings as a coach, that he need not settle for anything short of a perfectly laid table.
Because there's nothing else to do in this lockout wasteland, surveying the likely future perennial title contenders that would fit Phil's bill leaves only a short list: the Lakers, the Miami
Heat
, the Chicago
Bulls
, the Oklahoma City
Thunder
and the New York Knicks.
The Lakers are unlikely to do an about face after committing to new coach Mike Brown. It's a long way from Hollywood to the Oklahoma dust bowl, so the Thunder can be eliminated immediately. The Bulls are currently in a honeymoon period with coach Tom Thibodeau, leaving the Heat and the Knicks as the two most obvious targets. The Heat like Erik Spoelstra, though, and South Beach is Pat Riley's domain. It's difficult to imagine there's room for the egos of both Riley and Jackson in the same city at the same time.
By process of elimination that leaves the Knicks, newly empowered with All-Star forward
Carmelo Anthony
and
Amar'e Stoudemire
, but sporting a head coach in Mike D'Antoni who only cares about offense and has been on a hot -- or at least warm -- seat for the last year or two. For now, New York's roster isn't sufficiently talented to make Jackson, himself a title-winning Knicks player, rush back to the NBA. But throw in
Chris Paul
and a few quality role players, and an empire state of mind for Jackson starts to seem more plausible.
That's a lot of ifs, though, especially during a nuclear winter. The smart money is on Jackson, who has battled hip problems for years, staying retired for good. Indeed, if you had to put money on who would make a comeback first, O'Neal or Jackson, the answer would be Shaq in a runaway. As his incessant book promotion recentlly illustrates, O'Neal is having some trouble letting go of the spotlight.